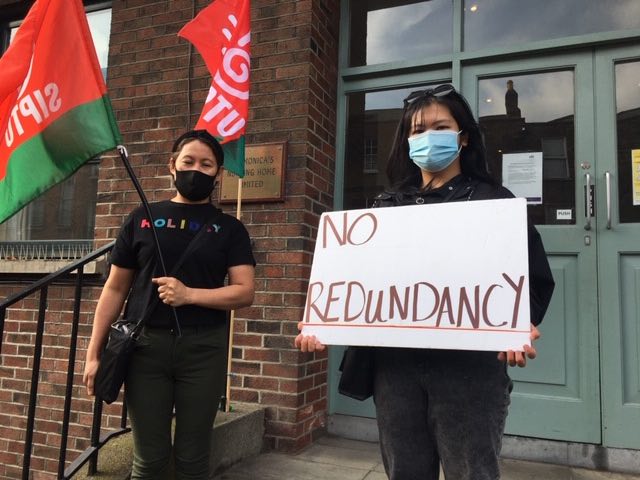 Sisters of Charity workers continue campaign for a fair redundancy package
Sisters of Charity workers gathering today (Friday, 18th September) for socially distanced protest outside St Monica's Nursing Home in Dublin have said that their #PayUpSisters campaign will continue until a just and reasonable outcome is achieved.  
At the protest, the workers, who are members of SIPTU, Fórsa and the Irish Nurses and Midwives Organisation, expressed their deep dismay that the Sisters of Charity did not turn up to talks yesterday (Thursday, 17th September) at the Workplace Relations Commission and vowed to keep going until an enhanced redundancy package already recommended by the Labour Court is paid.

SIPTU Shop Steward, Liz Meade, said: "The campaign must continue. We will not give up on our struggle for fairness. Some of us took care of countless vulnerable people both in the nursing home and in the day service on behalf of the Sisters of Charity for over 30 years and to be left high and dry like this is an absolute scandal."

SIPTU Industrial Organiser, Damian Ginley, said: "SIPTU representatives again call on the Sisters of Charity to engage directly with the group of unions in a process that can find a solution acceptable to the workers. The sudden closure of this nursing home along with silence from the Sisters of Charity has left a bitter taste for all members.
These are the same people, some of whom have given their entire working lives to the Sisters, who went above and beyond the call of duty to protect some of the most vulnerable in our society during the Covid-19 pandemic.
For these workers be left out in the cold after years of loyal service is very difficult to accept so our members will continue to fight until justice is achieved."