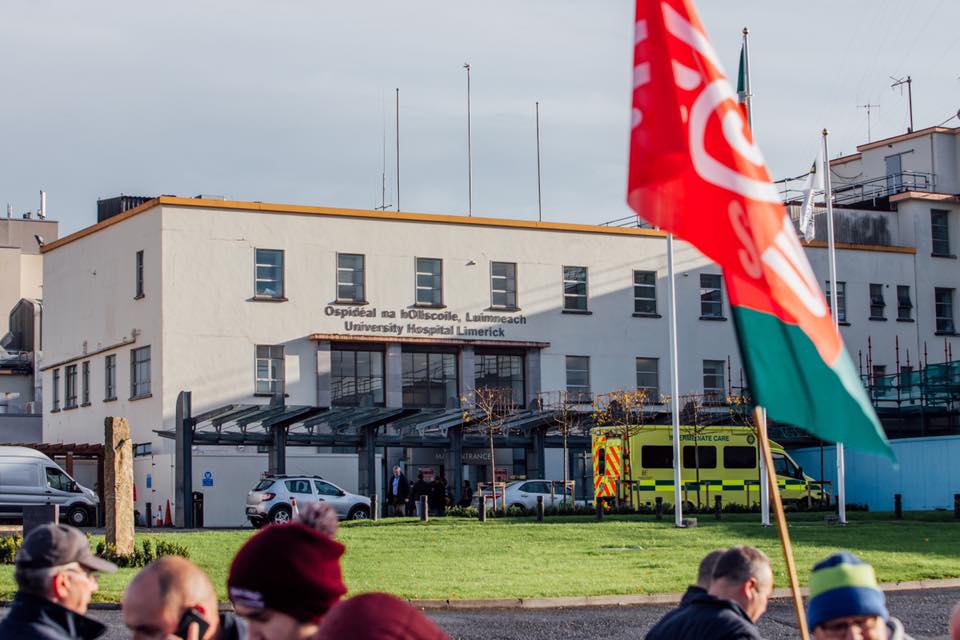 SIPTU says University Hospital Limerick ward closure is in breach of PSSA
SIPTU representatives have informed management that its proposal to close a ward in University Hospital Limerick, without consultation with unions, will constitute a breach of the terms of the Public Service Stability Agreement (PSSA).
SIPTU Organiser, Pat Condon, said: "Union representatives met with senior management on 9th January. At this meeting, management said it was proposing to close Ward 1A in order to facilitate the opening of a fracture unit in its place.
"SIPTU representatives stated that Ward 1A was part of a 2016 agreement for the opening of a new emergency department for the hospital. We pointed out that it was senseless at this point to close a sixteen-bed unit when the hospital was effectively operating beyond capacity with trolleys on wards every night. We highlighted that removing these sixteen beds would adversely affect patients and expose our members to dangerous risks.
"Agreement was reached that these beds would remain open and that if there was to be any change, management would reengage with union representatives. Our members are upset to learn that management proposes to go ahead with the closure of this ward at the end of March. This is despite there being no further discussions on this issue between management and union representatives."
He added: "Management has also refused to meet with unions to discuss the wider issue of staffing levels in the hospital as part of a Workplace Relations Commission process. Instead, management has decided to introduce changes to our members' conditions of employment without any discussions or agreement.
"SIPTU representatives wrote to management on 10th January informing it that its continued refusal to engage with union representatives on any matters incurring changes to our members' employment conditions would amount to a breach of the PSSA. Since then we have made several other requests for discussions with management to no avail.
"Unless there is an immediate engagement by management with our union, the next step will be to cite this breach of the PSSA to the National Implementation Body, which is responsible for overseeing adherence to the agreement."