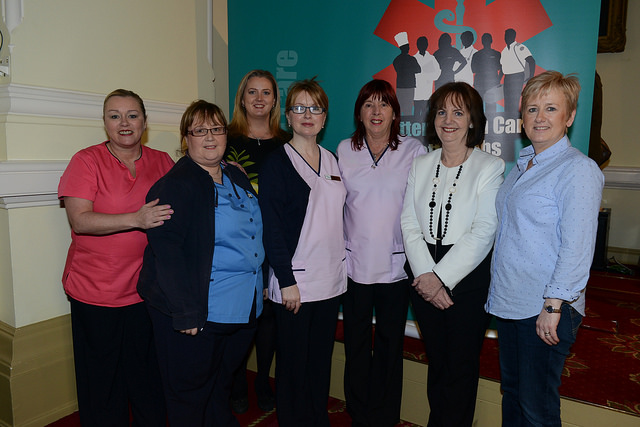 SIPTU says increasing pay not work permits will solve Health Care Assistants shortage
SIPTU representatives have called for a review of the rates of pay and the duties of Health Care Assistants (HCAs) in response to a shortage of staff in the sector, rather than seeking to recruit workers from outside the European Economic Area to fulfil these roles.
SIPTU Sector Organiser, Marie Butler, said: "SIPTU representatives are surprised by the call by the employers' group, Home and Community Care Ireland, that the Government should provide work permits for workers from outside the European Economic Area so they can be employed as HCAs.
"We have already written to the Minister of State for Business, Employment and Retail, Damien English, earlier this year on this issue. In this correspondence we highlighted that there are more than 47,500 people with the relevant qualification, at QQ1 Level 5, to be employed as HCAs. It is clear that large numbers of these qualified professionals are not working as HCAs and have instead sought alternative employment.
"This is due to the unsatisfactory working conditions which are still prevalent within the sector, in both residential facilities and home care settings. These poor conditions include low rates of pay, the use of minimum hour contracts and pressures resulting from a lack of staff. In the private home care sector we are aware of HCAs who are paid the minimum wage and are not reimbursed for their fuel costs or the time spent travelling between clients' homes.
"What is needed to rectify this situation is a review of the conditions for workers in the sector and agreed improvements rather than seeking workers from outside the European Economic Area or, which has also been mooted, some form of bogus 'self-employment 'where  clients would dial in for home care services.
"In order to begin the process of developing a sustainable and professional sector, SIPTU has proposed to the Minister that the Labour Employer Economic Forum establish a subgroup involving all stakeholders, including unions and employers, to discuss the issues that have resulted in a shortage of HCAs. This group should then formulate a series of agreed measures to address the problem including establishing adequate rates of pay throughout the sector."
She added: "Ireland stands at a crossroads in relation to the care of our elderly and other vulnerable people. We can have a sector staffed by workers in precarious, low paid employment which undoubtedly impacts on the standard of services. Alternatively, we can work together to develop a strategic approach that sees us develop a professional HCA role in both residential services and in the community.
"This would create a sector which attracts qualified professionals eager to participate in a rewarding occupation providing the highest quality of services."
SIPTU representatives are awaiting a response from the Minister concerning their proposals.