SIPTU members employed by Section 39 organisations providing health and care services across the country have voted by 97% in favour of commencing strike action, beginning with a one-day stoppage on Wednesday, 14th February, in their campaign for pay justice.
SIPTU Health Division Organiser, Paul Bell, said: "I wish to thank SIPTU members working in Section 39 organisations for this clear demonstration of their unity of purpose. The vote provides a clear mandate to strike in the workplaces selected to take part in the initial round of industrial action. The strike action will begin with a one-day stoppage on 14th February. More stoppages will be announced following this initial action.
"The ballot result is an expression of the unprecedented level of both disappointment and anger of our members at the failure of their employers and Government to respect their legitimate entitlement to pay restoration. Our members are also incensed with the lack of a response by their employers and Government to the unanimous vote earlier this month in Dáil Éireann in support of a Fianna Fáil Private Members' Bill which called for pay restoration for workers in Section 39 organisations.
"Taoiseach Leo Varadkar has previously confirmed that there is a long established pay link between Section 39 organisations and public sector employers. He must now intervene in this dispute and ensure that Section 39 organisations are adequately resourced in order to facilitate the implementation of the outstanding Labour Court recommendations concerning this issue and allow for local negotiation to commence on pay restoration."
Bell added: "The Irish Congress of Trade Unions has accepted an invitation to attend a hearing of the Joint Oireachtas Committee on Health scheduled for this Wednesday (31st January) to discuss our members' campaign for pay justice. UNITE trade union members in Section 39 organisations in the South East have also voted in favour of strike action. FORSA and INMO trade unions are preparing similar ballots."
SIPTU members in the following organisations have voted for strike action; Rehab Ireland, the Cheshire Foundation, Western Care in County Mayo, St Joseph's Foundation in County Cork, SOS Kilkenny, Ability West, Wicklow Community and Family Services and SOS Workshops.

SIPTU Health Divisional Organiser Paul Bell said that a national campaign was a must and he urged the public to become involved, through local campaigns, unions or political groups and urged delegates to do what they can to ensure Section 39 workers win the campaign for pay justice.
Speaking at the conference, Hugh O'Rourke, SIPTU member and Section 39 worker said the solidarity delegates, speakers and organisers have shown to all Section 39 workers, campaigning for Pay Justice was exactly what we need ahead of our national day of strike action.
"We are still waiting for the Government to do the right thing and give Section 39 workers the recognition and respect we deserve as workers providing the same public services as our HSE colleagues for less pay.  The support from the Still Waiting campaign has been very encouraging and we are calling on all SIPTU members, trade unionists and members of the public to stand with us to say enough is enough this injustice, unfairness and inequality of pay for Section 39 workers cannot be allowed to continue."
The coordinator of the Still Waiting Campaign and SIPTU Health Division member, Cyril Brennan, said that fixing the system would take "the largest solidarity movement ever seen in Ireland".
He said it was up to the Irish people to get out and help.
Like and follow the Still Waiting Ireland Facebook page and get involved.

SIPTU members working in Western Care Association have today (Thursday, 25th January) voted overwhelming majority in favour of strike action in a ballot counted in the SIPTU offices in Castlebar.
A full national result across Section 39 organisations is due on Monday.
Download the SIPTU Health App to keep informed.
SIPTU representatives have today demanded that the Department of Public Expenditure and Reform (DPER) clarify whether its officials gave a formal instruction which resulted in the Health Service Executive (HSE) holding off on submitting a €68 million proposal that would cover a settlement in the dispute involving Section 39 workers.
SIPTU Health Division Organiser, Paul Bell, said: "The DPER must clarify this issue, which was reported by the media this morning, as it directly affects the claim by our members in Section 39 organisations for pay justice. Media reports state that several hundred million euros intended to cover 'financial risks' were not included in the health service plan due to an intervention by officials from the Department of Health. It is our understanding that the position taken by the Department of Health was due to an instruction from DPER in relation to the funding of the service plan.
"The original funding proposals included €68 million that the HSE had earmarked as provision for outstanding pay claims. Our members in Section 39 organisations see this as a clear situation of their claim for payment being withheld due to political interference."
He added: "It is unacceptable that the HSE and Department of Health have seemingly presented a budget for a service plan which does not include funds for addressing many key issues. In simple terms, this means that the HSE will struggle to deliver on its obligations to retain staff and provide services to the public. It is clear to our members that the health service plan is designed to fail."

This week, all political parties voted unanimously in favour of a Fianna Fáil Private Members Bill presented to Dáil Éireann which called for pay restoration for Section 39 workers.
SIPTU has now been informed that Minister for Health Simon Harris has instructed the HSE to conduct an urgent review and analysis of Section 39 Organisations claiming monies for the purpose of implementing pay restoration and with a focus on Labour Court Recommendations.
This is a positive step. But nothing more than that.
Workers in Section 39 organisations play a vital role in our health and care services providing assistance to patients and vulnerable members of our communities. Although fully funded by the HSE these organisations maintain their own management.
During the economic crisis, when cuts were administered to their colleagues directly employed by the HSE, Section 39 workers similarly saw their earnings reduced. This was at the direction of the Government. However, while workers across the public services are now seeing the sacrifices they made acknowledged with the beginning of a process of pay restoration, their colleagues in Section 39 organisations are experiencing no similar restitution.
This is a clearly unfair and unacceptable situation. It has been acknowledged as such in Labour Court recommendations which have upheld the claim by SIPTU members in Section 39 organisations to have their pay link with the public service recognised.
As a union which is committed to equality between workers who carry out the same tasks, all SIPTU members should support those in Section 39 organisations in their stand against discrimination and for pay justice.
As committed health and care workers, it is only as a very last resort that our members in Section 39 organisations will withdraw their services to those they assist. Unfortunately, government intransigence is forcing them into this position and if they do have to take to the picket lines on 14th February, they will do in the knowledge that they have the full support of their union colleagues across the country.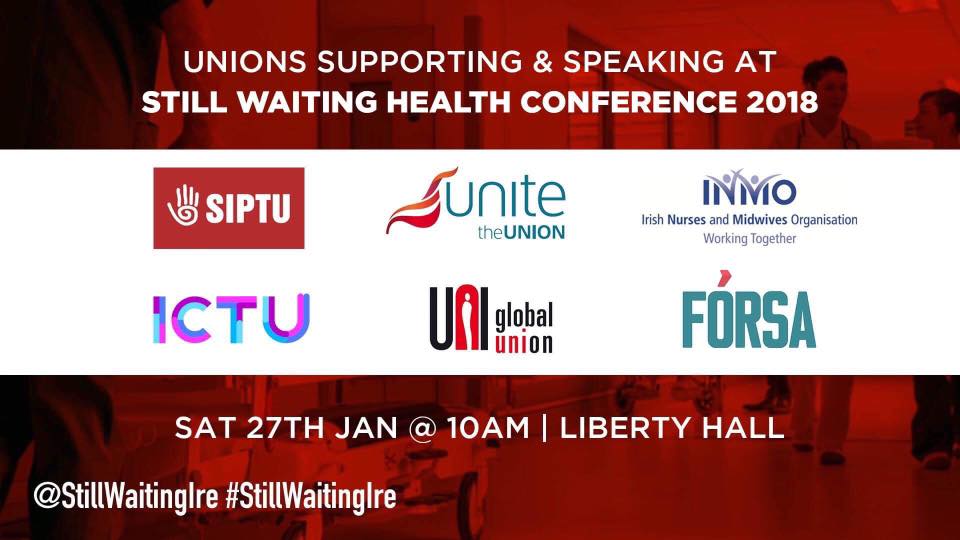 Health Campaigners, unions and political activists are coming together on Saturday, 27th January, in Liberty Hall to participate in a national conference that will examine the crisis in our health service and demand improvements.
The 'Still Waiting' Health Campaign Conference will hear a large number of presentations from those involved in health policy research and directly involved in the struggle to improve services. Those addressing the conference include SIPTU Health Division Organiser, Paul Bell, UniGlobal UniCare Director, Adrian Durtschi and A&E consultant, Dr Jim Gray.
'Still Waiting' co-ordinator, Cyril Brennan, said: "We are asking health campaigns past, present and future to come together around a common platform to build a national movement to seek healthcare reform. The health service is in a continuing crisis and the 'Still Waiting' campaign is seeking reforms to improve our public health service."
Please register attendance by emailing stillwaitingireland@gmail.com

SIPTU representatives have today (18th, January) commenced a formal process of engagement with the management of the National Ambulance Service.
The purpose of this engagement is to negotiate a mechanism to facilitate a review of the roles and responsibilities of SIPTU members working as Ambulance Professionals.
In the coming days, SIPTU will present a formal document to management outlining the areas of review and the parameters of any agreed exercise.
SIPTU representatives are also in the process of consulting with the Department of Health in this regard.
Further information will be made available on the SIPTU Health Division App. Download here

SIPTU representatives have today (Wednesday, 17th January) welcomed cross party support for a Dáil motion calling for the restoration of pay for Section 39 workers.
SIPTU Health Division Organiser, Paul Bell, said: "SIPTU's campaign for pay justice for Section 39 workers has today reached a critical moment as we have secured cross party support for full pay restoration for these vulnerable workers.
Our members feel they are on the verge of winning their campaign as Fianna Fáil, Sinn Féin, the Labour Party, the Social Democrats, the Green Party, Solidarity and many Independents have supported their campaign. This can ensure that our members who provide essential services to our most vulnerable citizens have their voices heard on the floor of the Dáil. 
"Our members throughout the country see this cross party, political, support as a vindication of their committed efforts to not only win pay justice but to fight on behalf of their service users who would be exposed to having their services curtailed if the recruitment and retention crisis in Section 39 organisations is not resolved."
Bell added: "We are hopeful that the Government will now direct the Health Service Executive, Department of Health and Department for Public Expenditure and Reform to agree a focused and transparent process that will secure our members' jobs, pay restoration and services.
"We also remind the Government of its obligations to make sure all outstanding Labour Court recommendations are fully honoured as the best way of ensuring that forthcoming strike action can be averted. 
"In a further boost to our campaign, it has been confirmed that the Joint Oireachtas Committee on Health will meet all key stakeholders on 31st January in a further effort to bring this campaign to a successful and peaceful resolution."
SIPTU representatives have today (Sunday, 14th January) called on the Government to instruct the Health, Information and Quality Authority (HIQA) to conduct an investigation into the impact of the crisis in hospital emergency departments on patient and worker safety.
SIPTU Health Division Organiser, Paul Bell, said: "SIPTU members find it quite bizarre that it is claimed that HIQA has no role to play in ending the overcrowding crisis in emergency departments in hospitals across the country. That the independent authority charged with investigating health and safety remains outside of the process to find a solution to this crisis is completely unacceptable.
"SIPTU representatives have been advised in recent days that HIQA can conduct investigations in emergency departments under the direction of the Minister for Health as outlined in Section 9 of the Health Act 2007. We are now calling on the Minister to instruct HIQA to begin such investigations into the impact of the crisis in emergency departments on the health and safety of patients and workers."
Bell added: "It is the view of our members that overcrowding in emergency departments results in unsafe conditions for patients and workers, as well as having a devastating knock-on effect throughout the health service.
"The Government should also enact the Patient Safety (Licensing) Bill. That Bill provides a mandatory licencing system for private and public hospitals. The government must also grant additional powers to HIQA to regulate acute general hospitals and give the authority real enforcement powers. This needs to happen without delay."