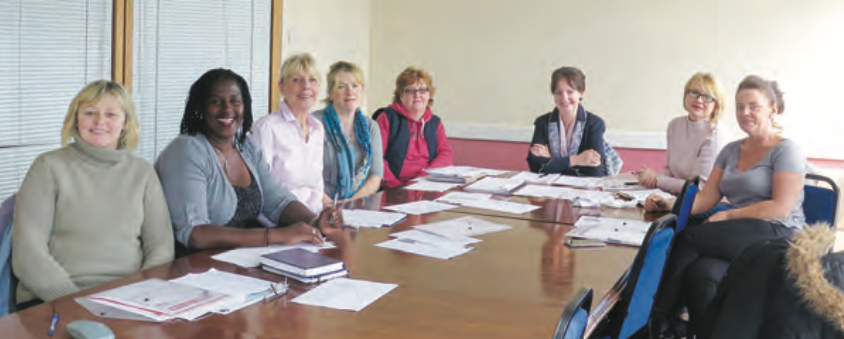 Taking care of the care assistants
The SIPTU Care Sector is one of the newest in the trade union. Formally launched in March 2016, it was established to organise Healthcare Assistants (HCA), a grade of staff which the union had a crucial role in creating.
Liberty met with the members of the SIPTU Care Sector Committee in late April during one of their quarterly meetings in Liberty Hall. Helen Tierney, a HCA in Mayo General Hospital in Castlebar, outlined how the HCA role came into being.
"I came into the hospital as an orderly. However, as I was working directly with patients when the FETAC Level 5 Healthcare Assistant course was rolled out, I enrolled.
"Prior to that we did have HCAs in the hospital, some had trained in the US and some in the UK but it was only with the start of the FETAC Level 5 course that we started getting qualified in Ireland."
The FETAC Level 5 Healthcare Assistant course was created with the direct involvement of SIPTU, when in the mid 2000's the union worked with the HSE to assist its health staff members to upskill. The course sought to train hospital support staff to fulfill hands-on patient care roles. In many cases the workers were al- ready carrying out such duties with- out formal qualifications.
Justina Munitich, a Maternity HCA in Portiuncula Hospital in Ballinasloe, Co Galway, said: "I started in the hospital 19 years ago with no experience. I became a maternity HCA 13 years ago. We would not have had any education without SIPTU. We were doing the job already but the FETAC 5 course explained why we were doing it."
Similarly, Moira Daly, a HCA in St Finbarr's Hospital in Cork, took the FETAC course in 2005. "Until then there were no HCAs, we were known as auxiliary staff. We did the same work as a HCA does now, direct patient care. All auxiliaries have been trained up now in St Finbarr's so there are just HCAs and multi-task attendants."
Committee members talk of the "Healthcare Assistant family" to cover the wide variety of roles included within the grade, from acute services, maternity, palliative care, mental health services, care of the elderly and other disability services.
The HCA position became essential throughout the health service as nursing and other roles evolved over time.
As Cheryl Barrow-Hilliard, a palliative care HCA recalls, "My back- ground is in nursing in England. A HCA does a load of what I did as a nurse. However, the role of a nurse has changed. It is now less hands-on and because of regulation, paper- work and other tasks, we have taken on much of the hands-on work for patients."
Ann O'Connell, a HCA in the Emergency Department of Cork University Hospital, agrees. "Nurses are doing roles that doctors would have once done, taking bloods, giving injections and other tasks."
Despite the crucial role, the estimated 16,000 HCAs play in our health services, they still do not have the recognition or respect they believe their role deserves. This has led to the SIPTU Care Sector adopting a five-point agenda.
Sector Organiser, Marie Butler, summarises their agenda as having twin objectives, including the development of the grade through "registration/recognition of the role, a national job description; an appropriate workplace uniform; ongoing education training development and progression", while the other is "to improve pay and working conditions through nationally negotiated pay agreements".
"We have also campaigned to ensure that permanency and incremental credit is secured for those employed under the HSE intern scheme," she added.
With a HSE national review of healthcare assistants expected to re- port shortly and a national HCA forum already established, the committee expects major advances on their agenda in the near future.
Pauline McDonagh, who has been a HCA in the Mayo Mental Health Sector for the past five years, believes progress on the five-point agenda will make HCAs visible. "Currently people only think of doctors and nurses but we deserve to be recognised as qualified professionals as well."
With recognition should come a National HCA uniform throughout the health service, although what colour it should be is yet to be decided. As Michelle Corbally, a HCA in Tallaght Hospital since 2006, points out, this is not about vanity but ensuring that the HCA is easily identifiable in the various health settings and assists in improving the patient experience within the health service.
"It's not because we want a uniform to go with the colour of our eyes. It defines who you are", she said.