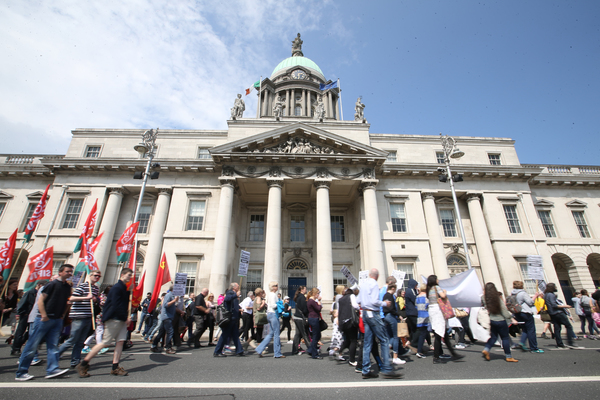 Social housing is not a big ask
A POLICY paper released by the Irish Congress of Trade Unions (ICTU) and the One Cork Project in June last year highlighted the scale of Ireland's housing emergency.
It revealed something of the suffering, homelessness and poverty that persists as part of this crisis and called for a robust, local authority-led, emergency response to building social housing.
More than a century after the promises of 1916 to cherish all the children equally, a dominant neoliberal policy doctrine in housing has rendered Ireland unable to adequately house its own people, despite being one of the wealthiest countries in the world.
Blind ideological allegiance to the market as the sole supplier of housing need has engendered a grave affordability crisis, whereby soaring housing costs for renters, as well as for first time buyers, are plainly prohibitive for the vast majority of Irish workers.
A separate report by ICTU has shed light on another facet of this injustice facing workers: the growing prevalence of precarity and bogus self-employment.
Inextricably linked to chronic levels of low pay and in-work poverty, a dramatic rise in the number of insecure, precarious contracts has disproportionately affected younger workers. Evidence suggests that nearly half (46%) of workers aged 35 or under are on non-standard contracts. Particularly pertinent for this category is the issue of involuntary low working hours, with up to a fifth of workers under 30 purporting to be stuck in part-time jobs they would like to trade for full-time work.
Such degradation of employment standards has contributed to a major decline in the ability of young, low income households to acquire long term homes. A significant rise in housing costs is compounded by stagnant median wages, while the prevalence of precarity renders borrowing almost impossible, with mortgage applications depending on stable employment contracts.
It comes as no surprise then, that as the average age for buying a house continues to rise, twice the number of adult children were living at home in 2016 as in 2006.
This generation has borne the brunt of decades of myopic neo-liberal policy choices. It has endured austerity, unemployment, increased welfare conditionality and forced emigration. It is suffering first-hand the social violence perpetrated by a deliberate erosion of workers' rights, living the miserable reality of underpaid, under-unionised, uncertain work.
This is a betrayed generation, an exploited generation, a generation ignored by the political class, subjugated by employers, tyrannised by unscrupulous landlords. In a society that prioritises the interests and demands of global investors and equity funds over those of citizens, the spheres of housing and employment intersect in a matrix of capitalist, intergenerational oppression.
For this reason, it is imperative now more than ever that young people organise in trade unions and resist the given unjust economic realities.
Social housing, provided as a human right, is not an impossible ask. Nor is legislation to end precarity and to provide collective bargaining rights. These should be core demands: decent housing, decent work and decent lives.
This article was written by Claire O'Connor and first appeared in Liberty newspaper. Download full version here