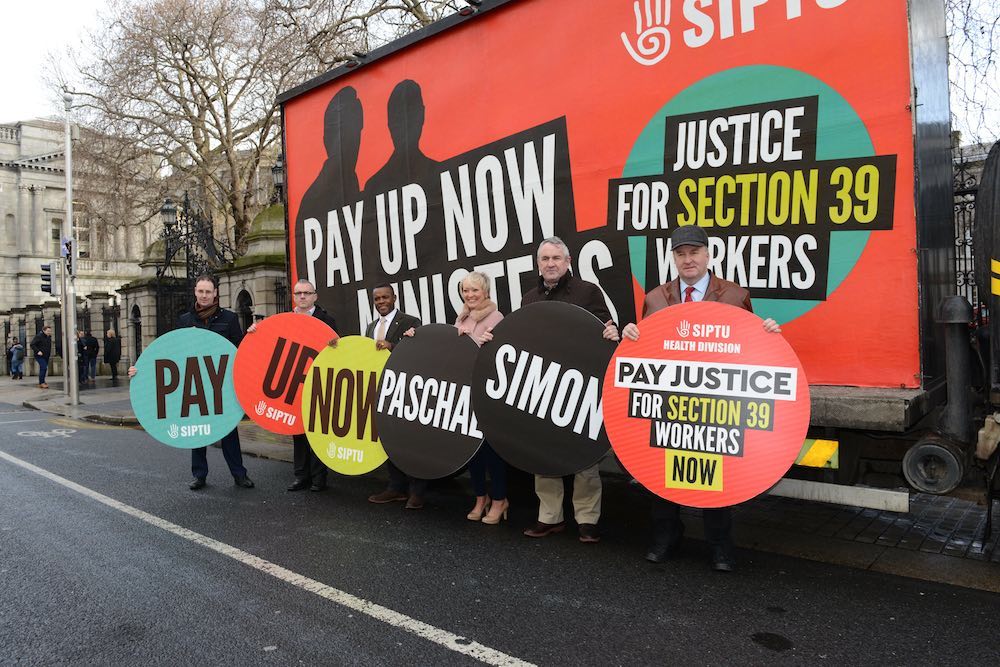 SIPTU to resume Section 39 talks in 'end game' for pay justice campaign
SIPTU representatives are to resume pay talks with the Health Service Executive (HSE), the Department of Health and Section 39 health service providers on Monday (9th July) morning at 11.00 a.m.
SIPTU Health Division Organiser, Paul Bell, said: "The talks, held under the auspices of the Workplace Relations Commission (WRC), will initially consider the HSE audit of Section 39 organisations. There will then be discussions on how to achieve a sustainable solution concerning how its findings can be addressed, funded and implemented.
"We are now at a critical phase in our campaign. Monday marks the beginning of the end game in a struggle for the thousands of Section 39 workers prepared to commit to strike action to achieve the respect and recognition they deserve.
"The findings of the HSE audit of Section 39 organisations are clear for all to see. There is an established pay link between Section 39 workers and their counterparts in the HSE. The content of the extensive audit document confirms the process for employers to secure funding from the state to restore our members pay."
He added: "SIPTU representatives remain insistent that pay restoration will commence in 2018 and our members remain committed to this objective. We will also be insisting on an agreed timeline for the commencement and conclusion of pay restoration for workers in Section 39 organisations.
"We are mindful of the delay in the pay restoration process for Section 39 workers when compared to their directly employed HSE colleagues under the terms of the Public Service Stability Agreement."