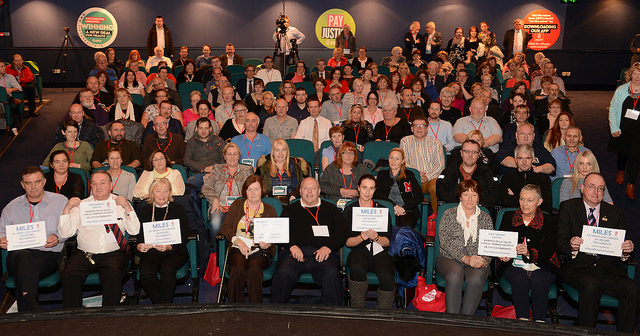 SIPTU to authorise strike ballots unless Government opens talks on public service pay
SIPTU General President, Jack O'Connor, has said that the union will authorise ballots for industrial action, including strike action, among its 60,000 members in the public service unless the Government sets an early date for the opening of talks on pay and related matters.
 Speaking at the union's Public Administration and Community Division biennial conference today, Jack O'Connor said:
"We utterly reject the assertion that there is no money and that it is a choice between pay increases and services for the public.  This is an absolutely false dichotomy.  The fact of the matter is that the Government made choices in the budget.  For example, it decided to continue to gift business in the hotel and hospitality sector with special VAT concessions costing more than €600m per annum at the tax-payers expense.  They chose to do so despite the fact that the industry has fully recovered. 
"Moreover, they chose to retain this very costly VAT concession notwithstanding the fact that employers in the industry continue to refuse to participate in the Joint Labour Committee to negotiate some improvement for their employees who are the lowest paid workers in the country.  At very least, the Government should have insisted that generous concessions at the tax-payers expense, which are no longer necessary, should be accompanied by some modicum of social responsibility.
"In addition to squandering this huge amount of tax-payers and public money it also decided to splurge a further €46 million on gifting for the wealthy through cutting capital taxes.  Even now, at the eleventh hour, it is not too late to amend the Finance Bill to generate additional revenues to facilitate a negotiation.  This could be done by amending the provisions relating to the taxation of vulture funds and others engaged in property speculation as well as radically tightening up on tax evasion.  (This has been addressed in depth by, among others, Independent TD Stephen Donnelly).
"We fully respect the right of every trade union to take such action as it deems necessary, in the interests of its members, and especially to address the injustice of lower entry rates.  However, the problem is that once and group embarks on a solo run, everyone else will have to follow. This is because it could lead to a situation that any resources that are available will be absorbed in settling these individual disputes and there will be nothing left for anyone else.  Accordingly, it is now imperative that the Government sets an early date for the commencement of talks to renegotiate the Lansdowne Road Agreement. 
I am today calling on the Government to issue an immediate invitation to the Public Services Committee of ICTU for the opening of talks which should commence not later than the 1st February, 2017. 
"Moreover, if they do not do so before this day week, our National Executive Council will authorise any negotiating group of members, who are covered by the Lansdowne Road Agreement, and who wish to do so, to commence balloting for industrial action and/or strike action in pursuit of their demands. 
"This is not the way we want things to proceed.  There is absolutely no doubt that a national agreement is best for all Public Service workers.  Everyone has far more leverage in negotiations for an agreement that would cover all of the 300,000 workers involved, than trying to do it one group at a time, in isolation.  That is why we strongly believe that the negotiations should be conducted by the Public Services Committee of Congress on which all the unions affected, are represented.   It is also actually better for the people of Ireland, who they serve, because of the stability and coherence it provides. 
"However, the terms of an agreement must be relevant to the circumstances that apply. Economic conditions have improved considerably more rapidly than those which were envisaged when the Lansdowne Road agreement was negotiated.  Moreover, what is at issue is pay restoration and addressing deplorably low entry rates which were introduced in economic circumstances which no longer apply.  That is why I pointed out in the public arena, in advance of the budget, that it was time to renegotiate Lansdowne Road.  In the past, agreements have been amended to take account of changed conditions.   That is how the Haddington Road Agreement came about in the middle of 2013, when the economy deteriorated to an unexpected degree."
Please note the SIPTU Health Division intends on seeking approval for industrial action across all grades if our demands are not met. Members can stay informed here or on our App.