SIPTU says strike action likely as Section 39 workers' pay falls further behind colleagues
SIPTU representatives have today (Thursday, 28th December) warned that thousands of workers employed by Section 39 organisations providing vital care services will strike in February unless the Government adequately deals with their rightful demand for pay justice.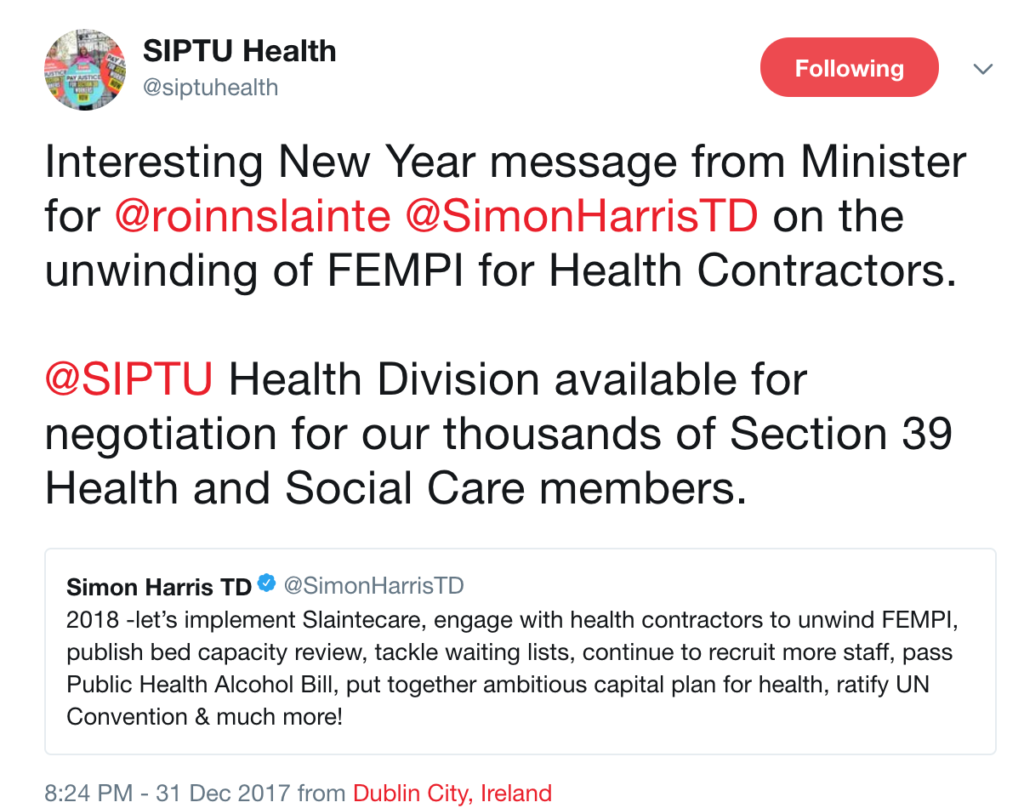 SIPTU Health Division Organiser, Paul Bell, said: "Our members have right on their side. They have won eight Labour Court recommendations confirming a pay linkage with other health workers providing public services. A linkage which was acknowledged by the Taoiseach, Leo Varadkar, last November.
"Pay restoration for thousands of workers providing public services will rightly advance again from next Tuesday (1st, January 2018). This will only grow the pay gap between our members in Section 39 organisations and their colleagues providing vital care services. It makes the lack of pay justice for Section 39 workers even more unbearable and only serves to harden their resolve during the current ballot for industrial action. Should our members in Section 39 organisations decide to vote yes for strike action, the date is now set for Monday, 12th February 2018."
Bell added: "Our members have done everything possible to avoid a strike which would impact on some of Ireland's most vulnerable citizens. Unfortunately, due to the actions and inactions of Government and the individual Section 39 employers they increasingly believe that their only option is strike action."
The SIPTU Health Division has also made an application to the Joint Oireachtas Committee on Health for a hearing in mid-January concerning pay justice for Section 39 organisation workers.
Bell said: "Our request for a Joint Oireachtas Committee on Health hearing is to ensure that the public and elected representatives are aware of the facts concerning how our members are being forced into taking strike action.
"We have also requested that representatives of the HSE, Department of Health, Department of Public Expenditure and Reform, as well as Section 39 employers' organisations attend, so they can hear directly from workers on how pay injustice is impacting on their daily lives."