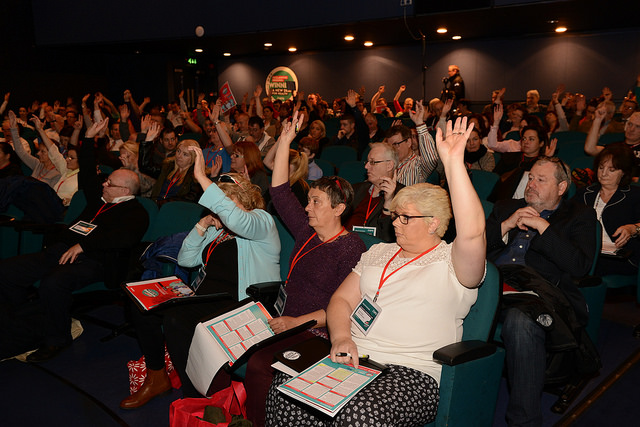 SIPTU authorises strike ballots on public service pay
The National Executive Council (NEC) of SIPTU has authorised ballots by union members for industrial action and strike action on public service pay. In a statement issued by the NEC following its monthly meeting in Liberty Hall, Dublin today, the NEC said:
"Throughout the very difficult years since the economic collapse of 2008 the NEC of SIPTU has recommended acceptance of extremely difficult choices in both the industrial and political arena across the private and the public service. We did so in order to ensure that our members and working people generally would hold as much ground as possible and to preserve the economic independence of the country itself. We always made it clear that when circumstances changed we would take whatever action was necessary to re-take lost ground.
"This is precisely what we have been doing as the economic recovery has gathered momentum. Our members in manufacturing have been securing pay increases of the order of 2% – 3% per year extending back to 2011 in some cases. In private sector services we have won new legally binding agreements in industries such as security and contract cleaning as well as increases for members in the retail and distribution sector. Moreover, our representatives participated fully in last Tuesday's decision by Congress to call for pay increases of the order of 4% from 1st January next for workers in the private sector. In public transport and aviation we have supported our members in important battles such as the Luas, Dublin Bus etc.
"Over the past year the representatives of several unions, including our own, have repeatedly urged the Government to open negotiations with a view to amending the Lansdowne Road Agreement to accelerate the rate of pay restoration in the light of a rapidly improving economy. As of this date the Government has refused to do so. Meanwhile, it has indicated that it is amenable to the application of preferential terms to individual groups.
"An agreement must be relevant to the circumstances which prevail during the period of its application. It must also be applied equitably. This is no longer the case with the Lansdowne Road Agreement because the rate of economic recovery has considerably exceeded that which was anticipated when it was negotiated. Moreover, recent settlements suggest selective application. Accordingly, we have decided today to authorise each recognised negotiating group of the union's members in the Public Service to conduct ballots seeking mandates for industrial action and/or strike action in pursuit of better terms.
"Mandates will be activated unless the Government issues an invitation to talks to the Public Services Committee of Congress. Any such invitation should envisage the commencement of talks not later than 1st February.
"Today we also considered a request from the officers of the Public Services Committee of Congress to the effect that we should consider deferring a decision on this matter for two weeks to allow exploratory talks to take place. In deference to this request, we are asking our various negotiating committees to make their preparations to enable balloting to commence on Thursday 1st December and thereafter as they consider appropriate."