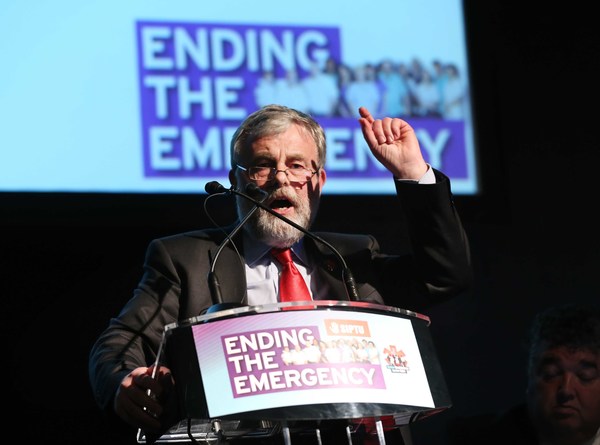 …Salute…
This is the last editorial will pen for Liberty. Later this month, Gene Mealy, Vice-President and I, are stepping down to hand over to the new Officer Board which was elected at the Biennial Delegate Conference in October.
I have been General President of the Union for fourteen and half years, serving with Joe O'Flynn as General Secretary. Prior to that, I served as Vice-President for nearly four years. Throughout that period, I have met and dealt with thousands of members up and down the country. I want to thank all of them for their courtesy, goodwill and support. Most particularly, I want to thank all those who have served as shop stewards, workplace representatives and on committees in any capacity. These selfless members are the lifeblood of our union. They are key to the struggle to maintain and improve pay, conditions and living standards.
I was first elected in May 2000 on a manifesto focused on organising the unorganised. This is absolutely key to upholding conditions for everyone because if we do not maintain a certain level of organisation, the brutal free market will determine standards. The strategy was two-pronged. First, we needed to get the law changed to make it easier for workers to organise and be represented by unions without fear of victimisation.
After that, the plan was to change the rules of the union so as to shift significant resources to organising.
We achieved the "2004 Act" which was the best piece of legislation ever enacted until then in support of a worker's constitutional right to freedom of association. However, tragically it was effectively struck out by the Supreme Court in 2007, in a case arising from a dispute between Ryanair and IALPA.
At a Special Conference in July 2008, we decided to change our rules to release resources for organising on an unprecedented scale. However, the economic collapse occurred in September of that year. In Ireland, we experienced the worst economic crisis in any developed country in the world since the Wall Street Crash of 1929. The resultant fall in employment and decline in membership deprived us of the resources to tackle the task on the scale we had envisaged.
Worse than that, we were forced to adopt a rearguard industrial and political strategy in face of overwhelming odds, in order to hold as much ground as possible on jobs, pay and conditions and the legal rights of workers. As the largest trade union in Ireland and as we then held the Presidency of the Irish Congress of Trade Unions, it fell to us to front for it and to take all the criticism that went with it.
However, together with others in the wider labour movement we managed to; preserve the core integrity of our social welfare system, (despite painful cuts on the periphery), prevent the wholesale privatisation of our key State assets, maintain good public service jobs for everyone who wanted to stay in them, prevent anti-trade union legislation and preserve the core legal mechanisms (i.e., the Employment Regulation Orders and Registered Employment Agreements) which protect the pay and conditions of hundreds of
thousands of workers. We also managed to secure the new Sectoral Employment Order (SEO) system through which almost two hundred thousand workers in construction, private security and contract cleaning have already won pay increases. In the fullness of time and through intelligent strategy by trade unions, tens of thousands of other workers will also benefit. On top of this, the new 2015 Act basically re-enacts the provisions of the original 2004 legislation. This means that workers can organise in a union and win improvements in their pay in terms of their employment that are binding on the employer without having to run the gauntlet of a trade union recognition dispute, with strong protection against victimisation. But, we need to go further to win full collective bargaining rights for all.
We are back on the offensive, winning pay increases across the economy and securing the reinstatement of pay which was cut in the public service. Thousands of workers are now joining unions again to fight for their rights and a fair share of the benefits of output.
Next year we will be re-establishing our local structures and opening Welcome Centres in communities across the country.
A new era now beckons. If our economy continues to perform at its present level, the money becoming available to whoever is in Government between the end of 2018 and 2022 will afford the opportunity to dramatically improve public housing, healthcare, education, childcare and local authority services generally, if it is not squandered on tax cuts for the rich. The opportunity also presents to achieve full collective bargaining rights for all workers. While legal opinion differs, we believe that it is necessary to put the issue beyond doubt through a referendum to amend the constitution. We in SIPTU are committed to working with others in the Irish Congress of Trade Unions, the parties of the left and wider civil society to bring this about.
You may be assured of my own personal ongoing commitment to the struggle for the right to organise and the fight against exploitation and towards the aspiration of a decent life for all. (In that regard, I am not actually retiring and I will be working for the union for at least another year in another capacity).
I am looking forward to meeting and working with many of you on these campaigns in the years to come.
So, for the moment, thank you all and with every good wish for the holiday season and the new year to you and your families.
Yours in solidarity,
Jack O'Connor
General President
December, 2017