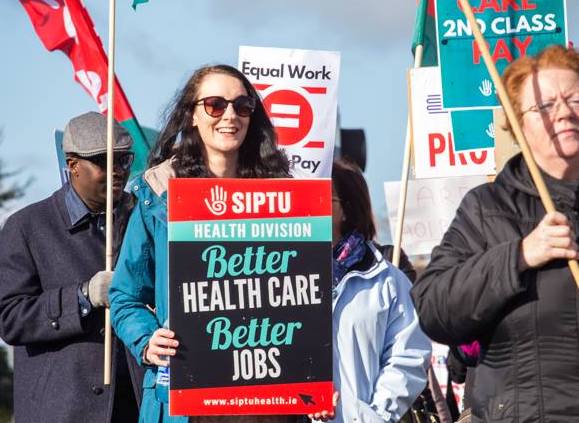 Preparing for the Future
SIPTU is implementing major improvements and an expansion of its services to members.
In order to further this process, the SIPTU Biennial Delegate Conference 2017 unanimously backed a new development plan for the union which requires significant investment in resources and campaigns.
The conference ratified an increase of 30 cents for members on incomes of more than €500 weekly from January 2018. This first increase since 2008.
The weekly dispute benefit for these members will also rise by €20 to €220 per week.
THE WORKERS RIGHTS CENTRE
The Workers' Rights Centre (WRC) ensures that SIPTU members receive the best quality advice and representation when they encounter a problem as an individual at work.
The WRC has 24 advocates with legal expertise in bases across the country, who represent members at local enterprise level as well as at hearings in the various employment rights adjudication and appeal bodies. Additionally, the Centre's Information Assistants can be contacted by phone and email and provide information on a wide range of issues to members.
An initiative of the SIPTU Legal Rights Unit, since its establishment in 2010 the WRC has dealt with over 25,000 individual cases and secured for many members improved conditions as well as, for others, awards and settlements totalling over €29.4 million.
WELCOME CENTRES
With the aim of bringing the union directly back into communities, since 2016 SIPTU has opened Welcome Centres in locations across the country. Welcome Centre staff provide assistance and advice to union members and potential members on a wide array of workplace issues.
These centres also provide a focal point for SIPTU organising in local communities through District Councils. During 2016 and 2017, Welcome Centres were opened in Liberty Hall in Dublin, Connolly Hall in Cork, The Dan Shaw Centre in Navan, County Meath, Connolly Hall in Tralee, County Kerry and the SIPTU Offices, Hanson Retail Park, in Sligo. Further centres will be opening in Galway, Kilkenny, Carlow, Letterkenny, Limerick and Waterford in the coming months
COMMUNICATIONS
SIPTU Communications produces the leading trade union newspaper in Ireland, Liberty, and Liberty Online as well as thousands of leaflets and other materials for all the Divisions, Sectors and Sections of the union. SIPTU Communications has greatly increased its video output on its website, Facebook and other social media outlets. SIPTU Health Division has developed a new smartphone App that continues to grow from strength to strength.
CAMPAIGNS
The union works for justice in society, playing a leading role in campaigns including pay justice for Section 39 workers. The union organises public mobilisations and uses social media and online campaigning to promote the interests of working people
ORGANISING
Our core aim has always been and will continue to be, organising ever greater numbers of workers into a union capable of bringing about progressive change in Ireland, on a workplace, community and State level.
The union will be reinvigorating the Young Workers' Network as well as continuing to strengthen our relations with the Union of Students in Ireland and the Irish Secondary Students Union.
The remit of the Retired Members Section will be extended to include a role in the operation of the Welcome Centres, education and training.
Emphasis is to be placed on increasing female participation within the union.
Organising Migrant Workers
Migrant Workers Support Network will be developed throughout the union.
Organising at Local Level – District Councils
District Councils have the responsibility for liaising with local union structures and campaigns as well as organising, education, training and development of activists and the wider membership.
Decent Work, Decent Lives
Research, organising and campaigning resources will be deployed in a coordinated push to ensure all workers can be ensured fair and decent conditions at work.
CULTURE
Every week the Liberty Hall auditorium and other union venues across the country are the focal points of union cultural and social events. These initiatives help to bond our union together as well as to commemorate our proud history and achievements.
SIPTU COLLEGE
The college provides training on health and safety, legal rights, negotiating, organising, media appearances and learning about important disputes in order to arm activists with the skills they need to be effective trade unionists. An ambitious plan to greatly increase the number of courses including JUMP START provided by SIPTU College, both at its premises on the South Circular Road in Dublin and across the country, is currently underway.
HEALTH AND SAFETY
Health and Safety backup support is provided to activists by the SIPTU Health and Safety Unit. This includes the provision of information, advice and representation.
THE IDEAS INSTITUTE
The IDEAS Institute, which is based in SIPTU College, Dublin offers a wide range of QQI accredited training courses to members. These courses include: 'Computer Literacy Skills' 'Personal Effectiveness in the Workplace' and 'Train-the-Trainer'.
MEMBERS BENEFITS
Our union is continuing to expand and improve the wide range of other supports and benefits available to members, these include:
Car Insurance
Home Insurance
Travel Insurance
Income Protection Plan
Mortality Benefit
Death Benefit for Spouse
Retirement Benefit
Education & Development Support Scheme
Scholarships
Free Basic English Scheme
Tax Back Refund
Credit Union (for members based in and around Dublin)
To download an information leaflet please click here