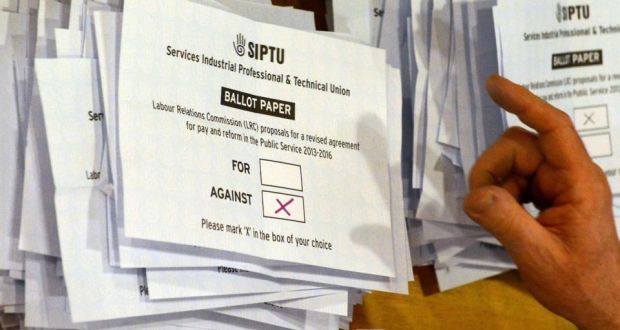 Pay Talks Update: Not fit for ballot
Tensions are expected to remain high at the public sector talks today (Monday, 29th May) as we enter week two and sides sit down to discuss pay, pensions and the recruitment and retention of health staff.
This follows week one's pitch from management to make thousands of public sector workers work Saturday shifts without any extra or "premium" payments and to pursue an outsourcing agenda that is not fit for ballot.
As the only congress union representing cleaners, porters, catering staff, health care assistants, ambulance professionals, radiographers and radiation therapists, areas most exposed to the threat of privatisation, SIPTU representatives made it clear to management we will not give a millimetre on outsourcing.
There has also been plenty of media speculation over the weekend that government will seek to trade pay restoration in return for productivity improvements. SIPTU representatives are clear that pay cuts were implemented in a time of emergency and, now that the emergency is over, pay should be restored and productivity should be negotiated separately.
Week one of the talks was dominated by unions resisting management's 'productivity' agenda which seems designed to reduce incomes, rather than restore them and an outsourcing project that seeks to replace quality services and decent work with minimum wage and bottom-line worker protections.
Let's hope week two sees DPER officials being more creative than rehashing demands for stuff unions refused to concede at the height of the crisis and start to address the elephant in the room; the €4,000 in extra special pay conceded to Gardai before Christmas.
It is undeniable that this will shape the pay expectations of our members. The government must realise that they can't have it both ways. They can't be restrictive in the approach to pay recovery while stating their aim is to get all (or most) public servants out of FEMPI over the course of an extension to the Lansdowne Road Agreement.