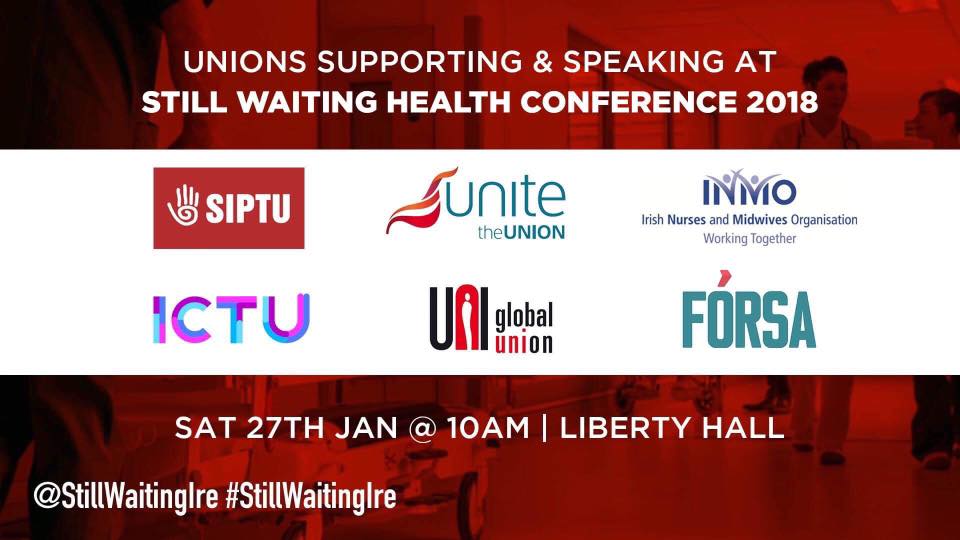 National conference on crisis in health service in Liberty Hall
Health Campaigners, unions and political activists are coming together on Saturday, 27th January, in Liberty Hall to participate in a national conference that will examine the crisis in our health service and demand improvements.
The 'Still Waiting' Health Campaign Conference will hear a large number of presentations from those involved in health policy research and directly involved in the struggle to improve services. Those addressing the conference include SIPTU Health Division Organiser, Paul Bell, UniGlobal UniCare Director, Adrian Durtschi and A&E consultant, Dr Jim Gray.
'Still Waiting' co-ordinator, Cyril Brennan, said: "We are asking health campaigns past, present and future to come together around a common platform to build a national movement to seek healthcare reform. The health service is in a continuing crisis and the 'Still Waiting' campaign is seeking reforms to improve our public health service."
Please register attendance by emailing stillwaitingireland@gmail.com