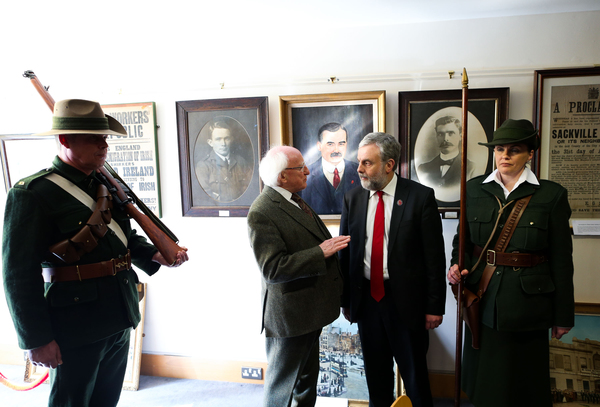 Is President Higgins our greatest export?
PRESIDENT Michael D Higgins is expected to announce whether he will seek a second term of office by next summer as he continues a busy schedule of engagements in Ireland and abroad over the coming months.
Popular backing for another presidential term is significantly high as he enters the final year of his first seven-year term with 64% of voters expressing support for the proposal that he should be returned unopposed to the largely ceremonial but important position as head of state next year.
With a presidential election due in October 2018, President Higgins has indicated that he will announce his intentions following what he described as his "full programme of events" into the spring of next year.
Speaking during a 19-day visit to Australia last month, President Higgins said that he will concentrate on his duties and commitments before making a decision on whether to run for a second term. "At an appropriate time, I will say what it is. I will take everything into account. I will decide…how I might best contribute to Irish society at that time," he said.
He added that he would not wish to impede anyone else wishing to run as a candidate should there be a presidential contest. "We are in a democracy and a republic, after all," said the 76-year old President who has placed the deepening of democracy and the creation of a true republic at the centre of his speeches and initiatives over his past six years in office.
A former Labour Party TD and government minister, President Higgins has won ever wider appeal among the Irish people and the diaspora, including during visits and engagements across Ireland and abroad. He has also impressed the leaders and peoples of many countries during his state visits, including to Britain, China, Latin America, Africa, the Far East and most recently Australia.
He has been a regular visitor to Northern Ireland, which is consistent with his many years of campaigning for a peaceful and just solution to the political conflict on the island.
His speeches during his term have underlined his critique of the neo-liberal model of capitalism; of the exploitation workers, past and present; on the importance of the rights of women, ethnic minorities and other disadvantaged people in Ireland and across the globe. He has spoken much of ethics in politics, society and in the workplace and in the role of the state in protecting the most vulnerable, in providing proper health and housing and other public services.
He has proven to be an engaging personality when meeting with the people he visits in communities in Ireland and across the world, usually accompanied by his wife Sabina Higgins, an accomplished actress. President Higgins is a socialist and formidable left-wing intellectual, who brings a fresh and welcome insight into the current as well as historical, political and economic matters.
Last year, he attracted criticism from the right-wing media and political forces for his expression of admiration for the late Fidel Castro. The criticism did little to dampen the enthusiasm for his considered and articulate assessments of the courageous people who campaigned and fought for a just society, in Ireland and across the globe, over the course of the last century and more.
He has long expressed and acted in solidarity with the oppressed and impoverished in Palestine, Central America, Africa and Asia. Earlier this year he travelled to Cuba, Colombia and Peru, while he was in the US in 2014.
He played a significant role in the commemoration of those who fought for an Irish Republic during the 1916 Rising which led to the War of Independence against British rule and led the State commemoration of the Irish Citizen Army in Liberty Hall where the Rising was planned and where the Proclamation was printed.
He also attended a number of concerts and events organised by SIPTU to mark the centenary of the Easter Rising. Three years earlier, he was to the fore in recognising the significance of the Dublin Lockout of 1913 when 20,000 workers and their families were starved into submission by aggressive and exploitative employers in one of the poorest cities of the then-British Empire.
He led a historic state visit to Britain in April 2014 to meet with Queen Elizabeth to reinforce the importance of the peace process which has helped to heal the wounds of 800 years of colonial conquest by Ireland's nearest neighbour and to meet with Irish communities across the UK.
At the recent SIPTU conference, there was a strong expression of hope by General Secretary Joe O'Flynn that President Higgins would stand for a second term. It is a call that has been echoed by many in Ireland, and across the world.
If he remains as fit and healthy as he is today, it seems that the widely held support, at home and abroad, for another seven years of President Higgins may well prevail.