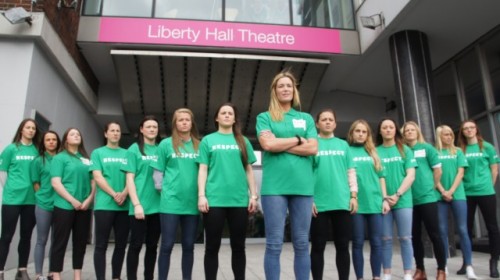 2017 the year for women in Irish sport
Growing up in a 1990's North County Dublin housing estate, football; both of the association and indigenous breed, were the fulcrum around which life revolved.
Weekends were divided up between soccer games which almost always invariably seemed to be played out in a rainstorm with no dressing rooms to be seen and GAA games with access to at least a portacabin to change in but unlike their 'foreign' counterpart were haphazard in nature with leagues crossing calendar years and never seeming to get finished.
One thing the two codes had in common was that our male-dominated worlds would sporadically be broken up with the arrival of that most novel of things to an early teen boy, a girl or sometimes multiple girls!
We (read I) would observe these creatures with confused silence and throw a mini tantrum when their talent would see us begin weekends on the bench or a greater evil still if you found yourself subbed in their stead.
With decades now beginning to pass those girls who turned up on wintery Saturday mornings to play a game they loved, with; in the beginning, reluctant boys, should now be seen as pioneers.
As we all prepare to do another full revolution of the sun, these last 12 months will be remembered as a landmark year for women's GAA and soccer on the island.
The year began with victory off the pitch as the long neglected Irish senior women's footballers decided that they had enough of sharing tracksuits and changing in airport toilet cubicles and from the steps of Liberty Hall announced their collective decision to strike if their demands weren't met.
The radio phone-in shows quickly jammed up with career FAI apologists but with a hugely sympathetic public behind them all demands were met.
Since then, a new era on the pitch seems to have begun for the women with wins coming in their two opening qualifying games for the 2019 World Cup against Slovakia and Northern Ireland followed up with an impressive away point in the Netherlands, leaving the Republic second only on goal difference to the Dutch.
From trudging up and down the Magazine Fort in Phoenix Park to hard hitting and to the point half time team talks from manager Mick Bohan, the excellent 'Loosehorse' produced a documentary called 'Blues Sisters'.
This charted the 2017 season with the All-Ireland winning Dublin Ladies GAA team and dispelled any bar-stool myths that what the women put in is in anyway inferior to their male counterparts.
The final itself attracted a record breaking attendance of 46,286 with another record breaking audience of an average of 303,800 watching at home on TG4. With sub-plots about players and rivalry between the teams dominating press coverage in the lead up to the final it was a welcome break to the emotional, almost patronising, call to arms 'follow the girls too' message, which used to dominate any woman's show piece build up.
Women's football in both codes is now a far cry from the days of girls playing with reluctant boys. While it's hard to pinpoint the breakthrough point the highs of 2017 should in time turn out to have not been the zenith but rather the consolidating of both inside the mainstream.