What do young workers want?
For a number of years now, we have been told that compared with previous generations, those born after 1980- the so-called millennials are seeking out something different- whether it be "purpose" in their jobs, flexibility to maintain a healthy work-life balance or co-living arrangements.
Yet a number of well-conducted studies in the US conclude that young workers today typically share the same aspirations of previous generations.
Behind all this hype, each worker, whatever their age, requires the basic dignity and decency of having a permanent roof over their heads. And nowhere are the problems associated with precariousness and low paid work more evident than in the area of housing and the capacity to access affordable housing with a certainty of tenure and price, particularly in the main urban areas in Ireland today.
We looked at the CSO's historical earnings data and national house prices from the Department of Housing, Planning and Local Government's database going back almost forty years and we were able to use earnings per age data to establish housing affordability per age.
Over three decades ago back in 1986, a young worker aged between 25 and 29 earning average wages for his or her age cohort was facing house values worth 4.7 times their annual income.
Twenty years on, that ratio has jumped to 11.92 average. This ratio obviously fell during the crash and in 2017, that ratio is back up to 11.1 in terms of house prices to earnings.
It is no surprise then that 45% of all 25-29-year-olds owned their house back in 1991- fast forward to 2016 and that share have plummeted to 12%. The situation for those aged 30-35 is not much better- 50% owning their house in 1991 and the share drops to 32% in 2016.
For today's average young worker, the prospect of being able to buy a house with their own resources anytime soon is remote.
For young workers in precarious jobs, that prospect is even more distant, the difficulties of affordability compounded by a set of rules that require consistency of income.
And those prospects become even more remote as house prices continue to far outpace the increase in real wages. House prices are increasing almost five times the rate of wages in this country and we can only assume that this ratio is getting worse with each passing year.
During the boom years, we know that cheap credit stepped in to meet homeownership demand. But with tight macroprudential rules, what lower paid and middle-income young workers do now?
Depend on the private rental housing market for their long-term housing needs? For a lucky 25% of first-time buyers, the impossible becomes possible with the help of a gift from parents to help with their mortgage deposit.
We know from the TILDA project on ageing in Ireland that in their wave three survey over 4000 older (aged 54+) persons, that some 48% of older adults provided financial assistance to their children.
The intended purpose of that gift is not clear, however 2013 research published by the Social Market Foundation in Britain on parental transfers to children found that across four surveys, cash transfers are made in lower income families as well as higher income families.
The main difference was that on average lower income household transferred cash for every day consumption as opposed to strategically planned life events such as the purchase of a house. In effect, older higher income generations helping younger generations to buy assets or capital further reproduces inequality within generations.
No official data on housing down payments is available but we can rely on the 2017 work of Central Bank economists Kelly and Lydon that looked at loan data from residential mortgage books within certain Irish banks.
In the CSO's household consumption and finance survey in 2014, they identify that almost one quarter of first time homebuyers had an inheritance. The median inheritance of €10k (mean €21.3k) was equal to around 50% of the value (2008-2014) of deposits on mortgaged homes for buyers under 40 at the time of purchase.
For the remaining 75%, those that are low or average wages, the future in terms of their housing needs is bleak. Currently, the average worker spends just over 50% of their disposable income on private rent for a one bed apartment in Dublin, with little or no scope of being able to save for a deposit.
Longstanding calls for better rental rules to enable long term tenancies and greater security of tenure must be enacted. But these will only go so far. We all know by now that increased supply is the only solution.
However, the economics of the housing market and the market control exerted by developers means there will no major glut of housing supply any time soon. It is a misplaced expectation that an increase in housing supply will dramatically reduce house purchase prices. The affordability problem for both house purchase and private rental will remain.
In that context, we need to get away from the mindset of thinking about delivering social, affordable and private housing separately. Any basic understanding of the housing market suggests that we need to develop all three in tandem. For it to be financially sustainable for the State, market rate and affordable rate rents need to cross-subsidise the social.
Recall this is not about a once-off boost to housing supply- estimates suggest we need somewhere between 35,000 and 50,000 dwellings per annum between now and 2040 to meet future population demand.
The State can and should get involved in building housing.
It has the land; the Government itself admits it has 1,700 hectares alone in State agency and local authority control, it has the access to the cheap credit and it has the space within the fiscal rules.
SIPTU Economist, Marie Sherlock
An edited version of this article appeared in the Irish Times on Friday 10th August.

SIPTU representatives have today (Friday, 10th August) called for a face-to-face meeting with  Minister for Health, Simon Harris, to discuss breaking the deadlock concerning pay restoration for thousands of Section 39 Organisation workers providing vital health services.
The call was made by workers as they conducted a lunchtime demonstration outside the Department of Health on Miesian Plaza, Lower Baggot Street, Dublin 2, ahead of a scheduled one-day national strike on Tuesday, 18th September.
SIPTU Health Division Organiser, Paul Bell, said: "The countdown is on for a major strike by Section 39 Organisation workers across the country. We have 39 days left for the Minister to intervene, to break the deadlock and insist his Government honours the commitments made on the floor of the Dáil that Section 39 workers would receive pay justice in 2018.
"An Taoiseach, Leo Varadkar, himself even acknowledges that Section 39 Organisation workers are entitled to pay restoration by way of an established pay link with public sector health service workers. However, the Government is continuing to sit on its hands, hoping this dispute will go away. It will not.
"The fact is our members have in excess of ten Labour Court recommendations in their favour confirming that pay restoration should apply to them in line with their counterparts in the public service. Our members are determined to see these recommendations honoured in full across the sector."
He added: "To date Section 39 employers have been happy to put their heads in the sand while our union does all the heavy lifting on securing funding from Government so workers can achieve pay restoration. Our members believe that they are working much harder than their employers, the Health Service Executive and Department of Health to avoid a strike. It's time for the decision makers to shoulder some responsibility or face the consequences of a strike in September."

SIPTU representatives have today (Thursday, 9th August) confirmed that after negotiations with Health Service Executive (HSE) management a proposed agreement has been secured that could end precarious work practices for home help workers in the community sector.
SIPTU Health Division Organiser, Paul Bell, said: "This agreement was secured following negotiations conducted under the auspices of the Workplace Relations Commission. It followed a threat to undertake industrial action later this month by some of the 8,000 workers employed as home helps in the community sector.
"These proposals are another step towards securing a quality home care service with fully qualified workers providing care for people who wish to remain in their own home, in their own community. Among the tangible benefits of this proposed agreement is that there will be a substantial increase in home care hours for the most vulnerable citizens in communities across the country."
He added: "It will also see travel time for home helps being included in their take-home pay and hours of work. It is also agreed that going forward the valuable work performed by these workers will be recognised by a new and more relevant job title and the introduction of a set of minimum qualifications for future intakes of home helps."
SIPTU Sector Organiser, Marie Butler, said: "Our members, will now consider these proposals in the context of the progress made to date, and the opportunity it provides for home helps to make the transition to becoming Health Care Support Assistants.
Our members in the home care sector have traditionally worked in often precarious jobs within the community sector, with no security concerning their pay or conditions. Acceptance of these proposals could change that and bring their jobs in-line with the terms and conditions of other HSE workers."
She added: "Our members are fully committed to the delivery of services to clients in their homes and in the community. As well as the possible improvements to the service which are contained in these proposals, in recent times our members have secured other agreements to improve the service. These include the creation of up to 800 new home help positions and an end to the 15-minute care window so that the needs of the service user can be catered for in a manner which respects their dignity."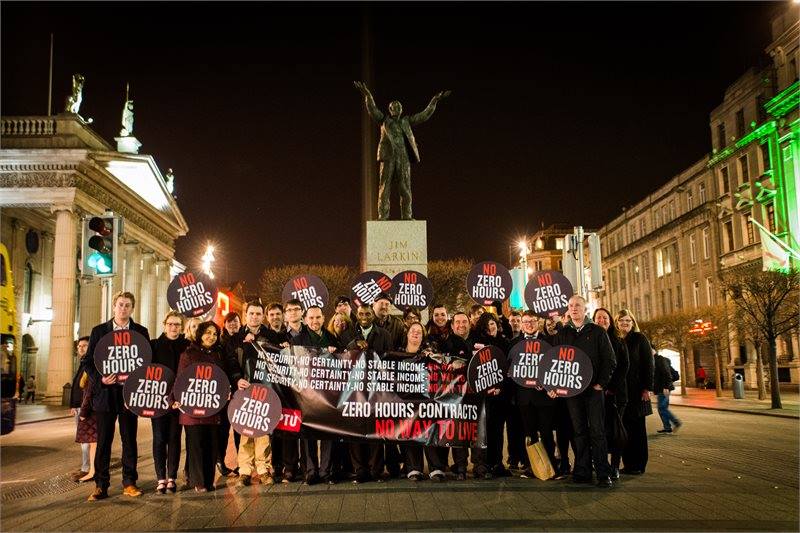 Precarious work in Ireland is not new. Since the foundation of the ITGWU over 100 years ago and later SIPTU, it has been an almost constant feature of the Irish labour market over the past 100 years.
Casual labour on the docks in Dublin since the turn of the 20th century, agricultural labourers working across thousands of Irish farms, the emergence of fixed-term workers in the 1990s and work- place innovations that saw the development of the temporary agency worker in the early 2000s and more recently, 'if and when' contracts.
Each time, the union movement has responded by organising workers in those sectors and in latter years ensuring that legislative protections are put in place to create a level playing field between permanent and insecure workers.
What is new is that precarious work is now emerging in sectors previously thought unimaginable such as third level education and that for some sectors, particularly those that rely on digital plat- forms, their business model or the very basis of their business de- pends on precarious work practices to operate and survive.
We know from the CSO's labour force survey data that in the education sector, just one in eight workers were on temporary contracts in 1998. This rose to one in six in 2014 and was one in seven in 2017. If we were to specifically take third level education employment alone, those figures would be much worse.
By its very nature, the concept of precariousness is hard to define. We combine various definitions used such as uncertainty of hours and tenure and vulnerability with regard to amount and frequency of pay.
However, the numbers only tell part of the story. This is where some commentators fall into the trap that if it isn't measured, they don't believe it. Well the reality is that there is no full comprehensive measurement for what we believe to be precarious work. And the reason for that relates to the issue of risk.
Risk is the defining characteristic of insecure work and the greater the risk or responsibility borne by the worker as opposed to the employer for a worker's security of income, stability of employment and access to social security, the greater the precariousness of that job.
Not all insecure work, such as self-employment, is necessarily precarious; similarly, as we know from the dependence on the Family Working Payment (formerly FIS), not all full-time permanent work guarantees adequacy of income.
Our lack of understanding of self-employment is one of the biggest obstacles to understanding precarious work although we get some insight from Revenue Commissioner data.
In 2016, some 41% of Class S PRSI contributors (self- employed not including proprietary directors). They had a gross income of €20,000 or less.
In that context, no single type of work or occupation can be classified as precarious. However, we understand that those in full-time temporary employment and those reported as being in part-time under-employment are at most risk. CSO labour force survey data suggests that in 2017 just over 175,000 workers found themselves in this situation.
Alongside this, the Department of Social Protection has produced a very conservative estimate of 7,500 workers in disguised self-employment, a figure many at the coalface of organising in the construction sector would contest as too low.
The focus on precarious work to date has been on workers' lives and rightly so. TASC's recent re- port Living with Uncertainty excellently details the day-to-day lived experience of those working in precarious jobs and the adverse implications arising from this type of working life for housing security, self-care in terms of health and family formation decisions.
Similarly, there has been a lot of research undertaken internationally on the lifetime impact of initial work conditions when young workers enter the labour market.
Well-known work by Autor and Houseman (2010) in the US looked at the so-called stepping stone effect from temporary agency work and fixed-term contract work into permanent work and the initial work experience on employment prospects and lifetime earnings.
Compared with fixed-term contracts, those in temporary agency work had a lower probability of getting permanent employment and endured a larger earnings penalty over a longer period.
CSO's labour force data tells us that the share of young workers aged 25-34 in temporary work has been edging up over the past two decades.
In 1998, some 6% of all 25-34 year-olds were in temporary work.
At the height of the economic crisis here, this share rose to 10% in 2012 and it was 8% in 2017.
With regard to part-time work, almost one-quarter of all those in employment in 2017 under the age of 35 were in part-time employment, up from less than a fifth (18%) back in 2008.
If we consider that a share of younger workers is combining work and study, this figure alone need not give cause for alarm, provided young workers have access to consistent hours and decent pay, irrespective of the contract type.
However, 10% of those aged 24 and under who are working part- time reported being under-employed. It is these workers that we regard as being in a particularly precarious work situation.
While we don't know the precise reasons for that underemployment, there are strong grounds to believe that this is part of the exploitative culture in certain sectors where 'if and when' contracts and variable hours exist.
When employment began to recover in 2013 and 2014, a key feature of that recovery was an increase in the availability of temporary and part-time work.
Five years on, almost all new jobs are in full-time employment, giving rise to a debate in some quarters as to whether insecure employment was merely a temporary feature of the recovery. It is not.
Technology and the increasing concentration of market power by companies in certain sectors means that the power balance between workers and employers is greatly skewed.
In that context, precarious and insecure work will remain part of the workplace landscape. Overcoming it requires stronger unions and more collective bargaining – something SIPTU members are striving for every day.
In October, James Bloodworth will speak to SIPTU Health Division members at the Division's biennial conference about his book on Precarious Work. Hired: Six Months Undercover in Low-Wage Britain.

There has been some recent pay recalibration which will be of interest to SIPTU members working as Chefs in the HSE.
The HSE will make a final decision considering the recalibration on 3rd September 2018.

This weekend (Friday 27th, July and Saturday, 28th July) the SIPTU Sligo, Leitrim and Roscommon (SLR) District Council marked the centenary of women's suffrage at the 2nd Annual Markievicz/Partridge seminar in Lissadell House, county Sligo.
SIPTU Honorary President,  and Health Division member, Padraig Peyton, said: "This event was organised by our Sligo, Leitrim and Roscommon District Council members to mark 100 years of the achievements made by women in the Irish trade union movement and politics. Markievicz has a very important association with our union. Our annual summer school is designed to recognise the contribution she made to the trade union movement, Irish freedom and women in politics.
He added: "Constance Markievicz has inspired countless disenfranchised women to get involved in politics and activism down the years so it is also fitting that we told the story of these women at our annual Markievicz/Partridge seminar."
SIPTU SLR District Council Vice Chair, Anja Boger, said: "As a district council,  we are so proud to host such a special event for the working class women and men of the north-west region. There is a longstanding and deep bond between Constance Markievicz and the people of the North West. Lissadell House is her ancestral home and this weekend we honoured our common bond on the centenary of her election to parliament."

SIPTU representatives have today (Wednesday, 25th July) confirmed that talks to avert strike action across Section 39 organisations have collapsed following negotiations in the Workplace Relations Commission.
SIPTU Health Division Organiser, Paul Bell, said: "Our members deferred strike action in February in good faith following an agreement between the parties that pay restoration would begin by the end of 2018. This has not happened and our members' patience has worn thin."
After months of intense campaigning, our members feel that what is being offered is too little, too late and will be striking on Tuesday 18th September. Our members will do everything possible to protect service users throughout the periods of the strike."
We would like to acknowledge the commitment of the Workplace Relations Commission for its efforts to bring about an agreement between the parties.  Unfortunately, the Department of Health and Health Service Executive (HSE) refused to sanction a "confidence building" payment of the €1.5 million required to pay our members 1% of pay restoration in October 2018."
He added: "This is despite massive cross-party support and the fact that our members were given commitments by An Taoiseach Leo Varadkar and Minister for Health, Simon Harris to Section 39 workers that the existing pay relationship between Section 39 organisations and the HSE would be honoured in full. Our members feel they now have no other option but to take action."
"It is deeply regrettable that the departments took the decision to face down our members instead of doing the decent thing and paying them what they are owed."

THE Government's economic and budgetary strategy, outlined in their recent Summer Economic Statement, should be of considerable concern to trade unionists.
The Government will not be spending all the money it is entitled to spend under the Fiscal Rules.
In fact, next year it will fail to spend 900 million. Over the next three years, they will fail to spend €4.2 billion. Ministers claim this is due to fears of "overheating" the economy.
However, only a few weeks earlier the Government stated that over-heating was only a "medium risk"; shortage of housing supply was, however, a "high-risk".
If that wasn't bad enough, the Government is putting aside €1.5 billion in a "rainy day fund" – a fund to be used in case of future emergencies. This is a wasteful duplication of savings the Government already has.
We have approximately €25 billion in the Strategic Investment Fund and cash balances (money the Government keeps for cash-flow purposes). Not all of this can be used in case of a future emergency (a hard Brexit, EU tax changes, Trump running amok), but a considerable portion would be available.
In short, the Government could spend €5.7 billion over the next three years but is not going to.
This has considerable implications for public house-building, public services, pay restoration, old-age and family supports, and many other programmes and income supports.
During the austerity years, public investment was slashed by more than 60%.
This left us with a legacy of massive infrastructural deficits. In response, the Government intends to substantially boost public investment over the medium term. This is a good thing. However, its ideological bias is revealed when we examine how they intend to pay for this investment – and who the main beneficiaries will be.
First, spending on public services will be squeezed. Ireland has always been a significant under- spender on public services when compared to our peer group in the EU.
Last year, Ireland was at the bottom of the table. To reach the average of our peer group, we'd have to increase spending on public services by more than €7.2 billion – for health, education, childcare, and public transport.
And under the Government's strategy, it will get worse.
Spending on public services will fall so low that by 2021 we will drop below even 1990s levels as a percentage of national income. And this at a time of rising demographic pressures (e.g. increased number of pensioners, increased pupil numbers).
In short, people will be paying for the increase in public investment through a squeeze on public services.
But it gets even worse. Irish workers only receive 45% of national income. Our peer group average was 50%. The difference might not seem much, but if Irish workers received the same share as other European workers, it would be equal to an 11% pay increase; or a flat-rate increase of €5,600 for each worker.
And under Government projections workers' share will continue to fall – to 43% by 2021. The gap with our peer group in Europe will widen. In fact, Irish workers' share of national income will fall back to 1990s levels just as national income benefits from the productivity increases arising from public investment.
This doesn't mean that workers won't get a pay rise. Workers in sectors and companies with collective bargaining should maintain their share (though this won't be easy); similarly, workers where there is a high demand for labour such as the ICT sector. However, the ones who will be really left behind are those who are not allowed, by law, to benefit from collective bargaining. That includes most low-paid and many average-income workers.
So what do we have? The increased productivity from public investment – which is being paid for by workers through squeezed public services – will increasingly end up benefitting employers. This is the future being mapped out by the Government and supported by Fianna Fáil.
But that doesn't have to be our future. The trade union movement has the opportunity to reject this regressive and economically inefficient budgetary strategy, instead, advancing an alternative fiscal approach based on investment in public services – especially housing, childcare and education which are vital to long-term economic growth.
This should be combined with an invigorated campaign on collective bargaining – at both workplace and political level.
Working with supporters in political parties and progressive civil society organisations, we could form a new front against the liberal economics of a small social state and a suppressed working class. That is a fight the trade union movement can lead.
That's a fight we can win

Thursday 6th December 2018
Leadership Development and Succession Planning
Ms Linda Coughlan
Programme Summary:
This programme provides participants with the knowledge to understand the current challenges facing the Irish healthcare system. The content will focus on how factors such as workforce planning, leadership style, leadership competencies, leadership development and succession planning can contribute to the resolution of key challenges, while exploring these factors in the context of the quality imperative and patient safety.
Programme Aims:
To provide participants with up-to-date, evidenced based knowledge to critically develop nurses' theoretical and practical understanding of the leadership skills required for the future of the health care system.
To support participants in enhancing their confidence, skills and competences, with regard to the critical understanding and application of their leadership skills.
Learning Outcomes:
At the end of the programme, participants should be able to:
Develop a critical understanding of current leadership challenges in Healthcare
Critically discuss possible solutions to these challenges
Critically evaluate leadership styles and their application in healthcare
Develop a critical understanding of the role of leadership in quality healthcare systems
Critically evaluate the development of leaders for the future