SIPTU members working in Section 39 organisations have voted overwhelmingly to accept the terms of Workplace Relations Commission (WRC) proposals aimed at resolving pay injustice in the sector. The result of the national ballot, confirming 90% of votes cast were in support of the proposals, was announced today (Tuesday, 4th December) in Liberty Hall, Dublin.
SIPTU Health Division Organiser, Paul Bell said: "This result is the culmination of over 18 months of hard work by our members and organisers in getting pay justice for Section 39 on the Government's agenda. We started on this journey to win full pay restoration for our members and to re-establish the pay link between Section 39 workers and their counterparts in the public health service. These proposals go a long way towards achieving everything we set out to win for our members"
He added: "Our job now is to make sure that the Government and the employers live up to their side of the bargain and pay our members what they are owed as agreed."
SIPTU Sector Organiser, Eddie Mullins, said: "During this entire dispute and ballot, our members demonstrated great compassion and responsibility by doing everything in their power to achieve a legitimate objective without affecting services to vulnerable clients."
He added: "Our members now have a right result, light at the end of the tunnel and a mechanism to achieve full pay restoration."
Breakdown of ballots
| | | |
| --- | --- | --- |
| Organisations | For | Against |
| Rehab Group | ✓ | |
| Ability West | ✓ | |
| Western Care Association | ✓ | |
| SOS Kilkenny | ✓ | |
| Cheshire Homes | ✓ | |
| Wicklow Community Home Helps | ✓ | |
| St Lukes Cork | ✓ | |
| Shannon Doc | ✓ | |
| Ard Aoibhinn Services | ✓ | |
| Cork Association of Autism | ✓ | |
| St Joseph's Foundation | ✓ | |
| St Aidan's Services | ✓ | |
| Milford Care Centre | ✓ | |
| Cobh Community Nursing Unit | ✓ | |
| Marymount Hospital and Hospice | ✓ | |
| Care Doc | ✓ | |
| North West Parents and Friends | ✓ | |
| St Hilda's | ✓ | |
| Kerry Parents and Friends | ✓ | |
| Rathmore Social Action Group | ✓ | |
| Killarney Community Services | ✓ | |
| Ann Sullivan centre | ✓ | |

The following is a complete list of the Section 39 organisations balloted by SIPTU Health Division on proposals aimed at addressing pay injustice throughout the sector.
Results will be posted on Tuesday 4th, December.
| | | |
| --- | --- | --- |
| Organisations | For | Against |
| Rehab Group | ✓ | |
| Ability West | ✓ | |
| Western Care Association | ✓ | |
| SOS Kilkenny | ✓ | |
| Cheshire Homes | ✓ | |
| Wicklow Community Home Helps | ✓ | |
| St Lukes Cork | ✓ | |
| Shannon Doc | ✓ | |
| Ard Aoibhinn Services | ✓ | |
| Cork Association of Autism | ✓ | |
| St Joseph's Foundation | ✓ | |
| St Aidan's Services | ✓ | |
| Milford Care Centre | ✓ | |
| Cobh Community Nursing Unit | ✓ | |
| Marymount Hospital and Hospice | ✓ | |
| Care Doc | ✓ | |
| North West Parents and Friends | ✓ | |
| St Hilda's | ✓ | |
| Kerry Parents and Friends | ✓ | |
| Rathmore Social Action Group | ✓ | |
| Killarney Community Services | ✓ | |
| Ann Sullivan centre | ✓ | |
A recent report issued by the Intergovernmental Panel on Climate Change(IPCC) makes grim reading. From rising sea levels to devastating droughts to damaging storms, the report makes it brutally clear that global warming will make the world worse leading to widespread famines, increased poverty levels and disease, refugee crises and economic impacts.
Stark statistics set out in the report make it evident that we have just 12 years to make massive and unprecedented changes to global energy infrastructure in order to limit global warming to moderate levels.
Staying at or below the targets set by the 2015 Paris climate agreement, the IPCC report sets out what it would take to hit the 1.5°C target by 2030.
The alarming report doesn't pull any punches.
In its 700 pages it outlines how meeting this goal requires extraordinary transitions in transportation; in energy, land, and building infrastructure; and in industrial systems.
It means reducing our current coal consumption by one-third. It also demands a vast scale-up of emerging technologies, such as those that remove carbon dioxide directly from the air.
All in the very narrow window of the next 12 years.
In Budget 2019, the Irish government failed to introduce vital measures to honour our commitments under the Paris climate agreement.
They neither took essential steps to increase carbon tax on climate polluters or introduce a Just Transition fund to enable the ending of fossil fuel subsidies.
In response to the report former Irish President Mary Robinson and climate justice campaigner said: "Put a real price on carbon and do it now. These are the levers that move things quickly and get the investment into clean energy. If governments are not capable of being more serious, then they lack moral leadership, which is what we really need now."
If Ireland wants to become a world leader on climate change, it needs to join other environmentally progressive countries in putting in place a carbon floor price to underscore our ambition for a transition in the most rapid way possible to a carbon-free world.
The next round of global climate negotiations, COP 24, takes place this week at the Katowice Climate Change Conference in Poland.
Governments, trade unions and civil society organisations need to make rapid progress on implementing the Paris Agreement so as to close the gap between what science requires and what countries are doing.
European trade unions believe it must also be a milestone on the journey towards a 'just transition', guaranteeing that workers will not be sacrificed in the effort to cut emissions and arrest climate change. COP 24 must be the Just Transition COP.
The conference will hear from the researchers involved in the IPCC report, hold discussions on putting in place a 'Just Transition'.
Ensuring a just transition for workers means creating good-quality jobs in new, sustainable economic sectors. It also means enabling individual workers to adapt and providing a safety net of social protection when needed.
Comprehensive retraining will be needed to avoid skills shortages and equip workers for jobs in green technologies while climate actions must be at the top of the industrial relations agenda, to anticipate changes and ensure workers have a say in them.
The conference will provide an opportunity to inject a renewed sense of urgency into meeting the targets set out in the Paris climate agreement.
The reality is, civilisations are at stake, the effects of human-induced climate change will take its toll on the planet in less than 12 years, and we are currently tracking for a three-degree increase this century that would bring catastrophic climate change. We don't have any time to waste.

A major theme at the SIPTU public sector divisional conferences this Autumn has been the outsourcing of public services. Union members working in the health services were deeply critical at their conference at the manner in which some of their employers are willfully ignoring the commitment made in the Public Service Stability Agreement (PSSA) to avoid the outsourcing of public service provision wherever and whenever possible.
Delegates saw an interview with CervicalCheck campaigner Vicky Phelan where she shared her thoughts on the outsourcing of health services, the findings of the Scally Report and how lessons must be learnt.
At the Public Administration and Community (PAC) Division conference SIPTU members working in the local authorities warned of potential industrial action if Irish Water proceeds with proposals to terminate the Service Level Agreement it has with the workforce. This could result in the outsourcing of the entire public water service to enjoy the protections and benefits of all future public service agreements
The conference delegates also called on the Government "to proceed with a referendum to ensure the retention of water services and assets within public ownership."
The concern over the outsourcing of public services is not unique to those who provide them nor is it one exclusive to workers and their trade unions in Ireland. Similarly, the privatisation of public services, including in public health, housing, water and transport provision has long been favoured by right-wing governments across the world.
The ideas that produced policies of privatising and outsourcing public services, so effectively espoused by Ronald Reagan and Margaret Thatcher from the early 1980s, are rooted in the relentless drive by employers and shareholders to minimise the cost of labour in order to maximise their profits.
It could be argued that this neo-liberal economic model has worked for the rich and powerful as the global wealth of the few has multiplied over recent decades.
But at what cost to workers, their families and to society? The simple answer is that the cost to workers and societies of the ideological drive to privatise and outsource public services to often badly run and greedy providers has been enormous.
The result across the developed world has been poorer and more expensive health services, inefficient and more costly bus and train services and the complete collapse in the construction of decent and affordable housing.
Forty years on from the Reagan and Thatcher era, it is absolutely unquestionable that their 'revolution' has achieved nothing but the enrichment of a tiny number of already wealthy people and companies, the so-called 1%.
Even the International Monetary Fund (IMF) which once so warmly embraced the neo-liberal agenda has now concluded that it has destroyed many economies and societies where it has been applied.
In a recent report published, the IMF measured the public debt against the assets of 31 countries. It found that the UK, the birthplace of privatisation, had the weakest public finances of any country surveyed, holding less than £3 trillion of assets against £5 trillion in pensions and other liabilities.
This is, in large part, the consequence of selling off public assets from the postal service to airlines, telecoms and trains, often at knockdown, bargain basement prices.
Such policies, the IMF concluded, "increase revenues and lower deficits but also reduce the government's asset holdings."
Privatisation and its associated austerity policies imposed by successive right-wing led governments all over the world have not just reduced the wealth and financial status of individual economies but have handed enormous, unearned wealth to a select few, the IMF states.
Shareholder dividends get priority over the payment of a utilities' debt thus pushing them into further debt and forcing customers to pay bigger bills, for water, electricity, gas, broadband etc.
Workers' wages get pushed down while the cost of services continues to rise, and when the inevitable crash comes, as it did in this country a short decade ago, the liabilities of the banks and their friends in the construction sector are dumped on the public.
Given the crisis in the supply of water, health, waste collection and other vital services it is unsurprising that many local councils in Britain and across Europe are taking back control of service provision from high cost "for-profit" private companies.
In Ireland, the trend towards outsourcing and privatisation is similar to those examined by the IMF in its report. The local authorities, for example, hand out contracts worth millions of euro each year to many providers who provide low-quality private contractors. In our health service, Government is spending up to €50 million a day on agency staff and with the proliferation of private care companies, millions of hours of home care packages can be potentially sold to the lowest bidder.
The District Councils of SIPTU, in co-operation with members across the union who provide vital public services, are to campaign to ensure that public monies are used to promote decent employment. Join us and help take our services back into public control.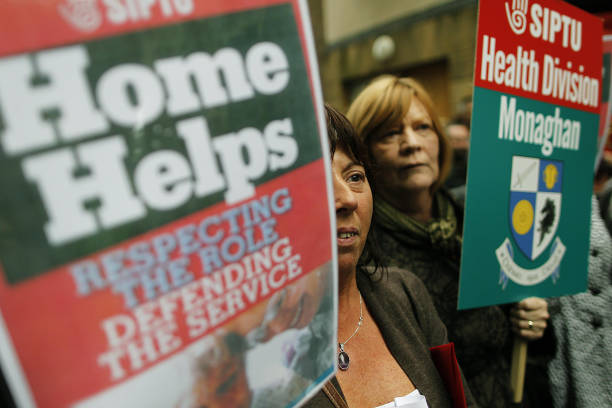 SIPTU Healthcare Support Assistants (HSA) in counties Cork and Kerry have voted overwhelmingly in favour of taking industrial action in a dispute concerning the failure of the HSE to implement the conditions of new contracts, in a ballot counted on Wednesday, 21st November.
SIPTU Sector Organiser, Marie Butler, said: "SIPTU represents approximately 1,000 HSAs throughout counties Cork and Kerry. Despite the commitment of these workers to their profession, of assisting those in need in their own homes, the level of anger they feel at the failure of the HSE to honour their new contracts is such that more than 80% voted in favour of industrial action.
"We are calling on the HSE to heed this vote and immediately implement the terms of these new contracts."
SIPTU Industrial Organiser, Ted Kenny, said: "If our members are forced into taking industrial action by the HSE, their clients can rest assured that everything will be done to ensure that it does not impact on their well-being.
He added: "The position of having to consider a campaign of industrial action, which their employer has forced them into, is deeply upsetting to these workers. However, they are committed to ensuring that the hard negotiations which went into their securing new contracts, which will improve the services they provide, has not been in vain."

"TO BOLDLY go where no union has gone before" could well have been the mission statement of the Workers' Rights Centre when it started operations in 2010, with apologies to Star Trek!
Formerly known unremarkably as MISC, the Centre was a product of internal restructuring within SIPTU with the purpose of having a specialist one-stop shop to advise and represent individual SIPTU members in disputes with their employers.
No other union on the planet, to our knowledge, has taken such a step and on such a scale. Adopting the Larkinite slogan of "an injury to one is the concern of all", the Centre has progressed to develop a legal expertise that is second to none in the complex area of employment law.
There have been seismic changes in this whole area over the last eight years, not least the passing of the Workplace Relations Act, 2015 which saw the dissolution of the Employment Appeals Tribunal, the Equality Tribunal and the Rights Commissioner service to be replaced by the Workplace Relations Commission Adjudication service.
Staff at the Centre were trained and prepared for such a change to ensure that SIPTU members were not placed at a disadvantage in pursuing claims. The Workers' Rights Centre, on behalf of SIPTU members, remains the single biggest user in the state of the Workplace Relations Commission.
We are constantly building up our knowledge and experience at the Centre and a lot of effort is put into resolution at workplace level. The best results are obtained in organised employments with the help and support from shop stewards and officials from the various divisions of SIPTU.
The work of the Centre is not about individualising members' problems but ensuring that this specialised unit is part of the organic whole that is the union.
The Centre comprises of information assistants, a centre supervisor and advocates under the overall stewardship of SIPTU's Legal Rights Unit.
The information assistants normally are the first point of contact for a member with an individual issue and they impart advice where appropriate.
More complex cases are elevated to the centre supervisor for distribution to the advocates.
The supervisor has the role of analysis of the cases and then allots them to the appropriate advocate.
There are ordinarily 11 advocates based in Dublin with a further 15 based around the country in various locations.
The Centre has a fully integrated case tracking system and the members enjoy the facility of availing of specialised staff with developed advocacy and employment law skills to protect them in employment and pursue legitimate grievances where necessary.
The Centre has achieved success in many landmark cases that have, in effect, changed the interpretation of the law in favour of working people.
The figures have been impressive. Since the recording of awards in 2012, the Workers' Rights Centre has recovered more than €21.9 million for our members in individual rights cases and over 20,000 case files have been opened.
These are not happy statistics for the affected members who might have been unfairly dismissed, discriminated against, bullied or seen their wages cut.
However, for a lot of our members, it wasn't just the recovery of monies that mattered but the reclamation of dignity and reputation in the uneven power relationship that exists between employee and employer.
In each successful case, the value of trade union membership was seen to be borne out. Quite a high percentage of cases are settled at an enterprise level. It is shown consistently that the higher the level of SIPTU organisation in the employment, the greater is the chance that the member's problem will be resolved without recourse to an Adjudicator.
2016 saw the setting up of the first Workers' Rights Welcome Centres by the union. These Centres give a localised contact point for SIPTU members and cater also for potential members who may be experiencing difficulties at work.
Advice is given in a friendly, empathetic environment and, if needed, SIPTU's expert advocates can refer cases for members on to the Workplace Relations Commission and the Labour Court, if necessary.
Welcome Centres have been established in Dublin, Navan, Cork, Kerry, Sligo, Kilkenny and Carlow. More centres will be opened in the months ahead.
Such are the challenges faced by our members daily from precarious employment relationships, out-sourcing threats and attacks on hard-won employment gains, that it may be indulgent, and definitely premature, to say that something has been a success story.
Nevertheless, I think we can afford to be proud of the foresight, of the leadership, and the ongoing commitment of the Centre's staff that has undoubtedly made the Workers' Rights Centre a bulwark against the outright exploitation of working people in Ireland.

Email ask@siptuhealth.ie for a NEW APPLICATION FORM
SIPTU Health Division – when you sign up to SIPTU you can opt-in to receive SIPTU Rewards including:
€80 OFF Car Insurance*

– subject to a minimum premium of €334.65

€75 OFF Health Insurance**

€30 OFF Home Insurance***

– subject to a minimum premium of €279.92

Lowest price Life Insurance PLUS a 5% discount****

from the insurers we quote

Tax Return Service – no refund, no fee+
SIPTU Health Application Form

Terms & Conditions of SIPTU Rewards
To avail of these discounts, you must have signed up to SIPTU Rewards within 3 months of joining SIPTU on or after 04/10/18. The offers above are effective from 04/10/18, subject to change and are only available through certain Schemes. You must request a quote within 1 year of joining for car, home and health offers and these must be requested over the phone. Only one discount can be used with each eligible proposal. You can only avail of a Rewards / Advantages Programme once through Cornmarket. Discounts above must be requested at quotation stage and cannot be issued retrospectively.
*Only available to new Cornmarket Car Insurance Customers who are SIPTU Rewards members taking out car insurance through Cornmarket's Nurses & Midwives' Car Insurance Scheme underwritten by Aviva Insurance Limited. €80 off subject to a minimum premium of €334.65. Actual discount is made up of €50 off plus an extra 10% off your premium. €50 discount available for existing Cornmarket Car Insurance Customers who join SIPTU Rewards (available at the next renewal date). Underwriter criteria, terms & conditions apply. Aviva Insurance Limited, trading as Aviva, is authorised by the Prudential Regulation Authority in the U.K. and is regulated by the Central Bank of Ireland for conduct of business rules.
**Savings based on waiving our administration fee.
***Only available to SIPTU members taking out an Aviva home insurance policy through Cornmarket. €30 off is based on the minimum premium of €279.92. Underwriter criteria, terms & conditions apply. Aviva Insurance Limited, trading as Aviva, is authorised by the Prudential Regulation Authority in the U.K. and is regulated by the Central Bank of Ireland for conduct of business rules.
****Lowest price Life Insurance based on the insurers we quote for, subject to a minimum premium of €15 per month. Lowest Pricematch offer is €13.13 per month for Mortgage Protection Plans and €15.00 per month on Level Term plans. We offer an additional 5% discount (where the premium is more than €15 per month). Aviva Life & Pensions UK Limited, trading as Aviva Life & Pensions Ireland, is authorised by the Prudential Regulation Authority in the UK and is regulated by the Central Bank of Ireland for conduct of business rules. Irish Life Assurance plc is regulated by the Central Bank of Ireland.
† Cornmarket's Tax Return Service is not a regulated financial product. This service is provided by Cornmarket Retail Trading Ltd., a wholly-owned subsidiary of Cornmarket Group Financial Services Ltd. Telephone calls may be recorded for quality control and training purposes. This service is available one year after joining SIPTU Rewards. If you would like them to claim a refund on your behalf, a fee of €45 plus 15% of your refund will apply – subject to a minimum refund of €51.75 (offer available to singly or jointly assessed PAYE income earners, who do not have any non-PAYE income and are not existing members of Cornmarket's Tax Return Service.

SIPTU representatives have today (Wednesday, 14th November) said that talks are underway with management at University Limerick Hospital in an effort to resolve a dispute in the portering department.
SIPTU Sector Organiser, Tony Kenny, said: "Following our recent 4 hour strike it is important to clarify a number of points raised by management in the media and deal with them. SIPTU were notified of the threatened closure of the porters rest room which was in place for over 25 years on 13th July, 2018. We wrote to management on six separate occasions prior its closure seeking to meet to find a resolution to the provision of restroom facilities prior to closure of the room. Since then we have had two meetings. One took place prior to the 2 hour work stoppage on 9th October and one prior to the 4 hour work stoppage last week (Thursday 9th November)
The purpose of these meetings was to agree contingency cover arrangements for a dispute. SIPTU put forward a fair and reasonable solution in an effort to avoid a dispute. This was rejected by management and is not proper engagement."
He added: "We also reject the allegations that smoking in the restroom was the reasons behind its sudden and unilateral closure. It appears that management is using this portering dispute in an effort to deflect attention from other serious issues of public concern. The fact is SIPTU has always held the view that where there is a breach of policy by any individual that the agreed disciplinary policy should be utilised. It should be noted that following the invoking of disciplinary procedures by management that all porters have been exonerated."
"Since our last stoppage, engagement on the overall state of industrial relations on site and the issues affecting our portering members have commenced with the CEO of the Hospital group. We remain hopeful that a fair, equitable and respectful resolution can be found to this and other matters through this engagement, and in recognition of this, we have not notified management of any further industrial action at this juncture.
The strike committee will be meeting in the coming days to review the recent industrial action and will be updated on these discussions and decide on a future course of action."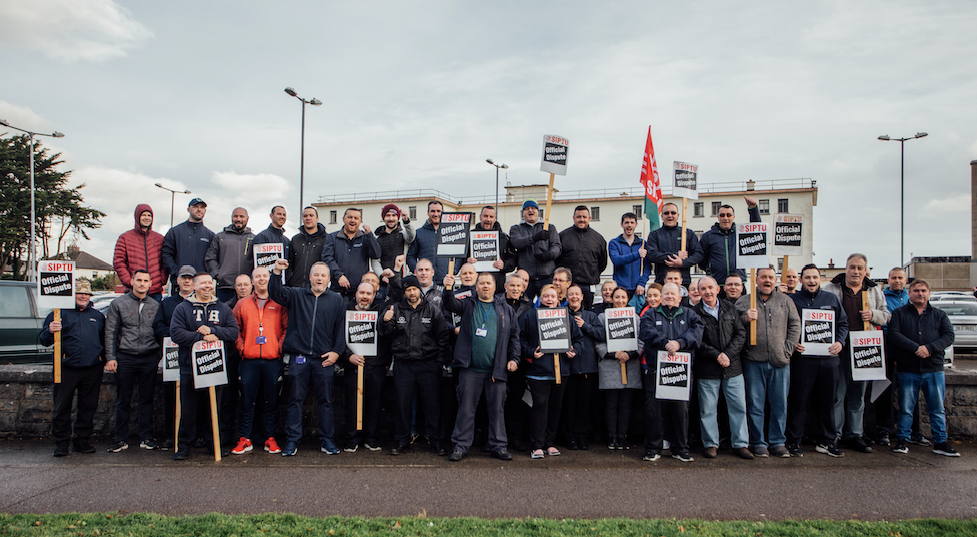 Last Thursday, (8th November) SIPTU members working as porters at University Hospital Limerick protested over managements refusal to engage with their union and address the workers concerns.
They feel let down and discarded by management. The union stands with them. The community support them.
"The straw that broke the camel's back in this particular instance, on behalf of the portering section, is that the portering section has had a restroom where they can take their breaks, for an excess of 25 years. A number of months ago, management closed that restroom without any discussion or agreement." – Tony Kenny, SIPTU Sector Organiser.